I may receive commissions from purchases made through links in this article. Full Disclosure
I personally use cloth wipes for my baby's bum now. I switched a few years ago mostly due to the chemicals that are in baby wipes but of course, they also are eco-friendly  alternative to paper products, as well as save me money!
I know not everyone wants to use cloth wipes and sometimes even those who do use cloth have to resort to disposable wipes once in awhile.
However, baby wipes can contain some scary ingredients that I'd steer away from:
2-Bromo-2-Nitropropane-1; 3-Diol: This one has a toxic rating of 10 on Skin Deep! It is a neurotoxin, immunotoxin, and organ system toxin. There is also concern for formaldehyde contamination.
DMDM Hydantoin: releases formaldehyde and is also an immunotoxin.
Propylene Glycol: immunotoxin, organ toxin, irritant, increased cancer risk. Curiously, it is also used in anti-freeze.
Methylparaben: endocrine disruptor, immunotoxicin, organ toxin, biochemical and cellular level changes.
It can be tricky to find disposable wipes that do not contain these ingredients.
All disposable baby wipes will contain some ingredients other than water but there are still disposable baby wipe brands that are safer options.
That is why I decided to make a list of baby wipes that are safer to use. The ones with less toxins in them.
Natural Disposable Baby Wipes Options
Cost: $0..06/wipe
Ingredients: 99.9% purified water, .1% grapefruit seed extract
EWG Skin Deep Rating: 1
Cost: $0.18/wipe
Ingredients: potassium sorbet, sodium benzoate, glycerin, citric acid, chamomile extract, sodium cocoamphoacetate, oat kernel flour, sodium citrate, water, cellulose
EWG Skin Deep Rating: 1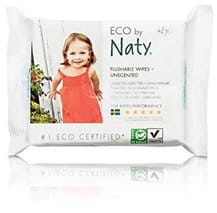 Eco by Naty Flushable Baby Wipes
Cost: $0.06/wipe
Ingredients: water, glycerine, sorbitan caprylate, decal glucoside, propanediol, benzoic acid, aloe barbadensis leaf extract, chamomile extract, citric acid, sodium benzoate, potassium sorbet, sodium citrate.
EWG Skin Deep Rating: 2
Bonus: Compostable


Kinder By Nature
Cost: $0.06/wipe
Ingredients: water, aloe leaf juice, levulinic acid, sodium levulinate, glycerin, potassium sorbet, sodium citrate.
EWG Skin Deep Rating: 2
Bonus: Compostable
Cost: $0.004/wipe (ridiculously cheap)
Ingredients: May vary depending on the recipe you use: paper towels (or cloth), water, castile soap, glycerin or oil, essential oils (optional)
EWG Skin Deep Rating: Not rated but likely a 0.
As always, this is not a complete list. There are other brands of wipes out there with similar ratings and prices.
I will say that you cannot find a disposable baby wipe with a rating of 0. In order to get that you have to use cloth wipes.
Need more baby item guides?
Natural Baby Bottle Options
Natural Bubble Bath Options