I may receive commissions from purchases made through links in this article. Full Disclosure
I've lived in all types of homes; I've lived in a brand new apartment and I've lived in a century old house. One thing they have all seemed to have in common is squeaky doors.
Last I checked, nobody cares for the squeaky door. Everyone is willing to fix a squeaky door, especially since it's a relatively easy task to do.
Most people will fix the squeak with a bit of WD-40.
However, I have a few issues with this miracle product.
Concerns with WD-40:
It's harmful or fatal if swallowed. Granted most won't go drinking WD-40 but that doesn't mean your kids might not or your animals.
May be aspirated and cause lung damage.
Can cause eye irritation.
The ingredients use really aren't all that great for the environment.
I prefer to use only natural products in my home; whether it be cleaning or fixing products.
What's a safe and even natural alternative to fixing a squeaky door?
Oil!
Any oil will do really. Many people love to use olive oil, I prefer to use coconut oil as I always have coconut oil on hand and since it's typically a solid oil, it isn't quite as messy as other liquid oils.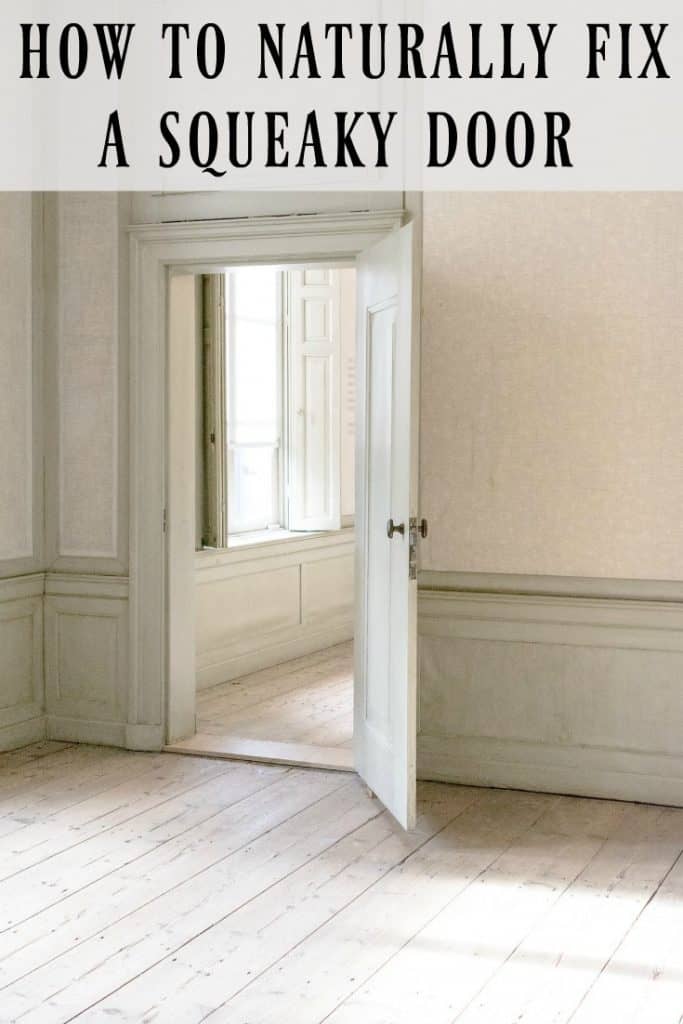 How to Naturally Fix a Squeaky Door
Oil – any will do olive oil or coconut oil are common choices
Rag
Directions:
To fix a squeaky door, simply apply the oil to the hinges and open and close the door a few times to work the oil into all the crevices.
If you used liquid oil like olive oil then you may wish to wipe off any excess oil after this step.
If however, you used coconut oil, I recommend leaving the oil on overnight so that it has even longer to naturally work it's magic. In the morning open the door a few times and see if the squeak is gone.
I've never had a door that kept its squeak after this process. Once the squeak is gone, you can wipe away any residual oil.
Who knew that the oil you keep in your pantry could be used for more than just cooking and personal products? Now it can be added to the toolbox!