I may receive commissions from purchases made through links in this article. Full Disclosure
The best way to spread holiday cheer is making natural DIY holiday skincare gifts for everyone you know and love!
The holiday season is a great time to get creative which means it's the perfect time to start making all natural DIY holiday skincare gifts!
Make them for your family, make them for co-workers, make them for yourself because you deserve something too!
Plus DIY gifts are often a great way to save a few bucks during the gift giving season!
Below you will find DIY skincare products that often include ingredients you already own and they can be made in just minutes… which is great if you find yourself looking for a last minute gift!
What makes these gifts NATURAL?
I only choose recipes for skincare that have a natural ingredient list. Typically that means the ingredient could technically be found in the baking aisle of the grocery store… granted there are a few exceptions like shea butter (not likely to find that one at the supermarket!)
The point is that natural means it likely comes from a plant and is not a synthetic chemical or product.
What makes these gifts HOLIDAY themed?
Holiday themed means it makes use of holiday scents (pine, eggnog, gingerbread, peppermint), or it plays on a holiday theme (like lumps of coal or snowflakes).
Natural DIY Holiday Skincare Gifts
Holiday Bath Bombs
Gingerbread Bath Bombs – The Pistachio Project (pictured)
Christmas Tree Bath Bombs – The Pistachio Project
Eggnog Bath Bombs – The Pistachio Project
Snowball Bath Bombs – The Nerdy Farm Wife
Peppermint Bath Bombs – Retro Housewife Goes Green
Hot Wassail Bath Bombs – Girl Loves Glam
Holiday Sugar Scrubs
Peppermint Candy Cane Sugar Scrub – The Pistachio Project (pictured)
Gingerbread Cookie Sugar Scrub – The Pistachio Project
Eggnog Sugar Scrub – The Pistachio Project
Activated Charcoal Scrub (aka Lump of Coal Scrub) – The Pistachio Project
Simple Vanilla Sugar Scrub – The Pistachio Project
Peppermint Candy Cane Sugar Scrub – The Pistachio Project
Renewing Pine Sugar Scrub – The Pistachio Project
Cranberry Sugar Scrub – Simply Stacie
Christmas Cookie Sugar Scrub – A Life Adjacent
Orange and Clove Sugar Scrub – Suburbia Unwrapped
Bath Confetti for the Holiday Season
DIY Christmas Bath Confetti – The Pistachio Project (pictured)
Holiday Lotion and Body Butters
Peppermint Foot Massage Lotion Bar – Joybilee Farm
Sugar Cookie Body Butter – A Life Adjacent
Peppermint Hot Cocoa Body Butter – A Life Adjacent
Evergreen Whipped Body Butter – Simply Beyond Herbs
Snowflake Lotion Bars – A Worthey Read
Whipped Wassail Body Butter – DIY Labels Club
Vanilla Bean Winter Lotion Bar – Garden Therapy
Frankincense & Orange Whipped Body Butter – Food Fun Family
Lip Balm and Chapstick for the Holidays
Chocolate Peppermint Lip Chap – Fit As A Mama Bear
DIY Peppermint Hot Chocolate Lip Balm – Premeditated Leftovers
Peppermint Lip Balm – Living Well Mom
Candy Cane Lip Balm – Garden Therapy
Gingerbread Lip Balm – Juicy Green Mom
Pine and Honey Moisturizing Lip Balm – Learning and Yearning
Evergreen Lip Balm – Learning Herbs
Eggnog Lip Balm – Tikkodo
6 Holiday Lip Balms – My Merry Messy Life
Orange and Clove Lip Balm – The Everyday Farmhouse
Cinnamon Lip Balm – Food Fun Family
Holiday Bath Salts
Pine Bath Salts – The Pistachio Project (pictured)
Christmas Cranberry Orange Bath Salts – My Moonstone Kitchen
Peppermint Bath Salts – Honey & Lime
Fresh Snow Bath Salts – Branded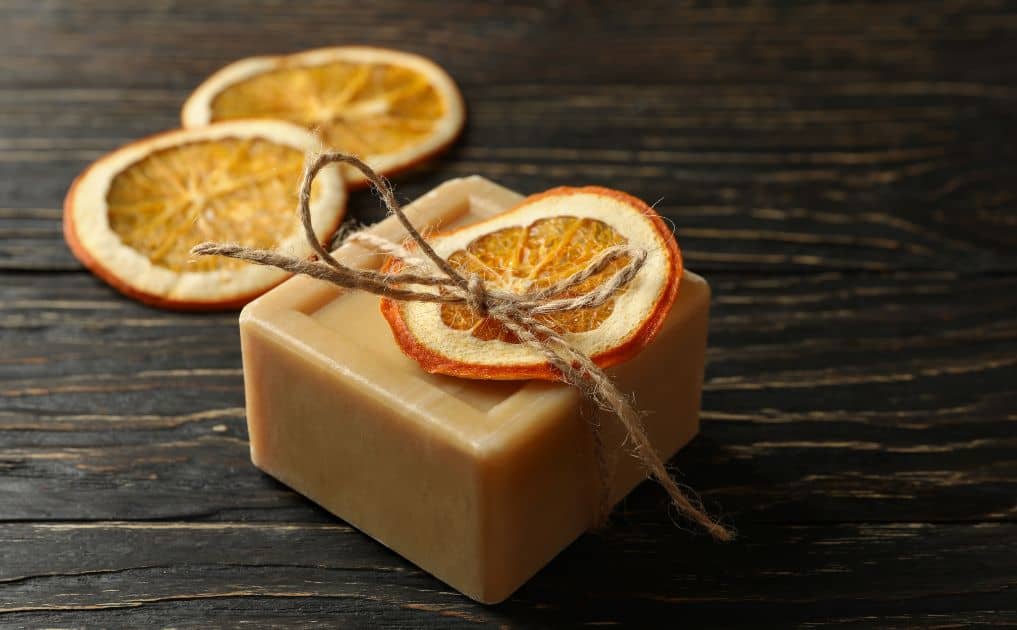 DIY Soap for the Holidays
Christmas Spice Soap – Simply Beyond Herbs
Lump of Coal Soap – DIY in PDX
Easy Gingerbread Soap – Oh The Things We'll Make
Winter Spice Pine Soap – Grow Forage Cook Ferment
Orange Spice Wassail Soap – Stampington
Wild Orange & Clove Soap – Heather LeGuilloux
Orange Clove Soap – BeautyCrafter
Orange Cinnamon Christmas Soap – Garden Therapy
Christmas Tree Soaps – Get Green Be Well
Cranberry Vanilla Shea Butter Soap – Simply Stacie
Cranberry Orange Christmas Soap – Humblebee & Me