I may receive commissions from purchases made through links in this article. Full Disclosure
These cheddar drop biscuits are perfect for a last minute side as they are so easy to make and are ready in under 20 minutes!
Biscuits are a huge hit in my family. They are so fast to make that they are always my go-to recipe when I suddenly realize that we need a little something to go with dinner!
I make my buttery drop biscuits all the time, especially when I'm making biscuits and gravy. Yum! My coconut oil drop biscuits are also great for if we are going dairy free or making them for dairy free guests.
However, recently we were having tomato soup and I wanted something cheesy. Normally grilled cheese sandwiches but well we were out of sandwich bread.
So what did I do? I tossed some lovely cheddar cheese into my usual biscuit recipe and voila! A brand new delicious biscuit recipe was born and in under 20 minutes!
Copycat Red Lobster Cheddar Biscuits
These are now my husband's favorite biscuits…probably because they taste just like Red Lobster's cheddar biscuits. Except I'm guessing they are much healthier as these homemade beauties are made with real ingredients!
Biscuits the Easy Way
Now, we could add a bit more flour to this biscuit mix and then properly cut out the biscuits with a biscuit cutter but who's got time for that? Not me! Instead, I make drop biscuits because they will still taste just like biscuits but there's not rolling and cutting nor any flour everywhere!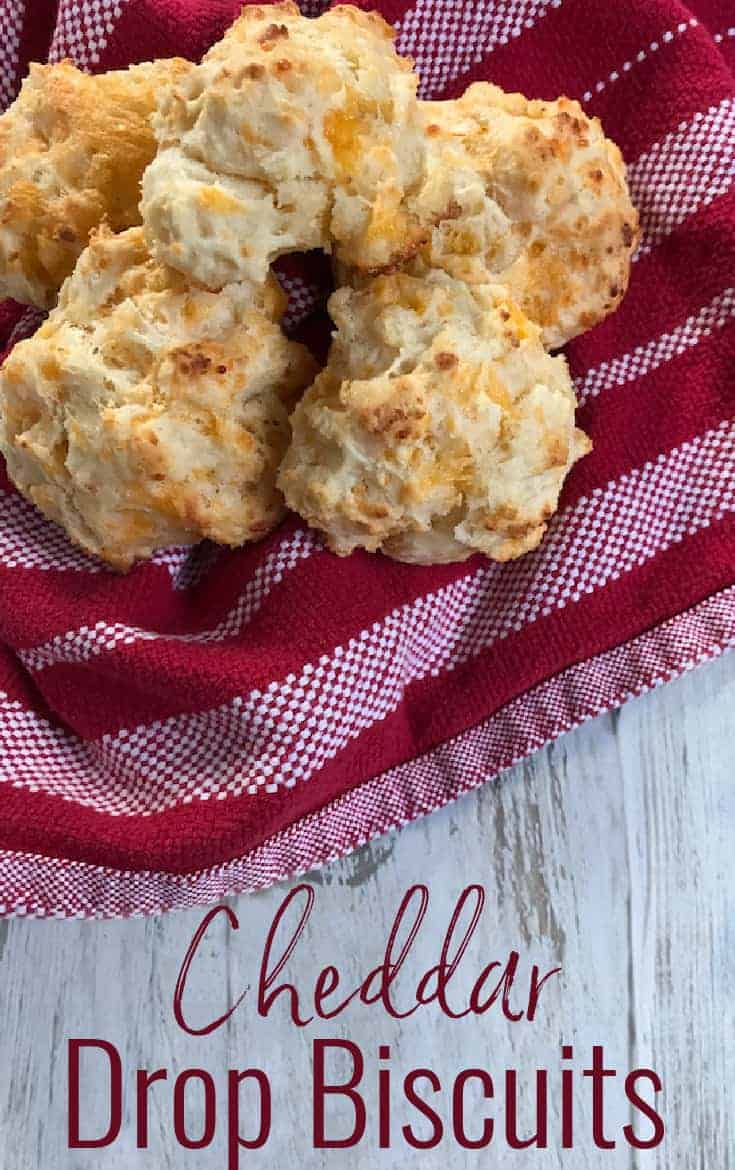 Cheddar Drop Biscuits
2 cups flour
1 tsp salt
3 tsp baking powder
1/2 cup butter (chilled)
1 tbs honey
1 cup milk – use your favorite variety
1 1/2 cups shredded cheddar cheese (sharp or mild)
Directions:
Preheat oven to 425 degrees.
Mix flour, salt, and baking powder in a bowl.
Cut in cold butter until you have a nice crumb like mixture.
Add honey and milk to the mixture and mix well.
Stir in cheese.
Drop 12 blobs of dough onto a greased baking sheet (yes blobs!)
Bake for 10-12 minutes or until golden brown.