I may receive commissions from purchases made through links in this article. Full Disclosure
Don't get angry at the dandelions in your yard! Dandelions are more than just weeds! Dandelions are quite beneficial and here are 50+ ways to use dandelion!
It's springtime and that's when all the dandelions start popping up. You may be under then belief that dandelions are weeds that are simply a disgrace to your yard…but you'd be wrong!
Dandelions are quite beneficial and there are so many ways to use dandelion! In fact there are over 50+ ways to use dandelion!
What Are Dandelions?
Ok, I'll be impressed if you are actually asking this question as dandelions are found pretty much everywhere! These bright yellow flowers are often found in fields and yards.
Dandelion is actually from the french "dent-de-lion" which translates to lion's tooth. Which may seem like an odd name until you look closely at dandelion leaves. Dandelion leaves have jagged, toothlike edges.
Dandelions consist of the flowers, leaves, and roots (just like all flowers) but each of these parts can actually be used for medicinal benefits! Dandelions are a multi-use plant!
What Are the Benefits of Dandelion?
We've already covered that dandelions are so much more than weeds and that they are overlooked medicinal plants! But why?
What is so amazing about dandelions that there are over 50+ ways to use dandelion?
High in Nutrients
Dandelions are high in vitamins and nutrients such as vitamin A, C, K and potassium, magnesium, iron, zinc, and calcium).
This may not see too shocking if you think about the fact that dandelion greens are used in salads all the time… it's really just the weedy version of spinach.
Detoxifing
Dandelion is wonderful at helping your body detoxify and helps support a healthy liver.
Dandelion is Beneficial for your Skin
Dandelion has been shown to be good for your skin thanks to its magnesium, zinc, and vitamin content.
Ease Joint Pain and Soothe Muscles
Dandelion is also helpful for dealing with inflammation and its mild analgesic properties are an added bonus for helping dial down painful joints and muscles.
Can Help Regulate Blood Sugar
Studies are showing that dandelion can help regulate blood sugar which can be good news for those watching their blood sugar levels.
Helps With Digestion
You can read all about the specifics on how this works in this post but the short of it is that dandelion (mainly the root and leaves) can help get things moving in your body.
Who Should Avoid Dandelion?
Generally speaking dandelion is safe for most people. However, just like with anything, if it causes an allergic reaction then definitely do not continue using it!
People who are sensitive to the Asteraceae family may also be sensitive to dandelion.
It is also not recommended to use dandelion if you are on diuretics or antibiotics.
It's also recommenced to consult with your doctor before taking supplements if you are on medication, nursing, or pregnant.
How To Forage for Dandelions
You can harvest dandelion pretty much anywhere. The only real concern is to avoid harvesting dandelions that might have been sprayed with herbicides.
For those wanting some more details on how to actually harvest you can read these posts on how to forage for dandelions and how to forage for dandelion root.
Ready to start making all things dandelion?
Scroll down for over 50+ ways to use dandelion!
You'll find skincare tutorials that use dandelion, natural remedies, food recipes both sweet and savory, and dandelion beverages!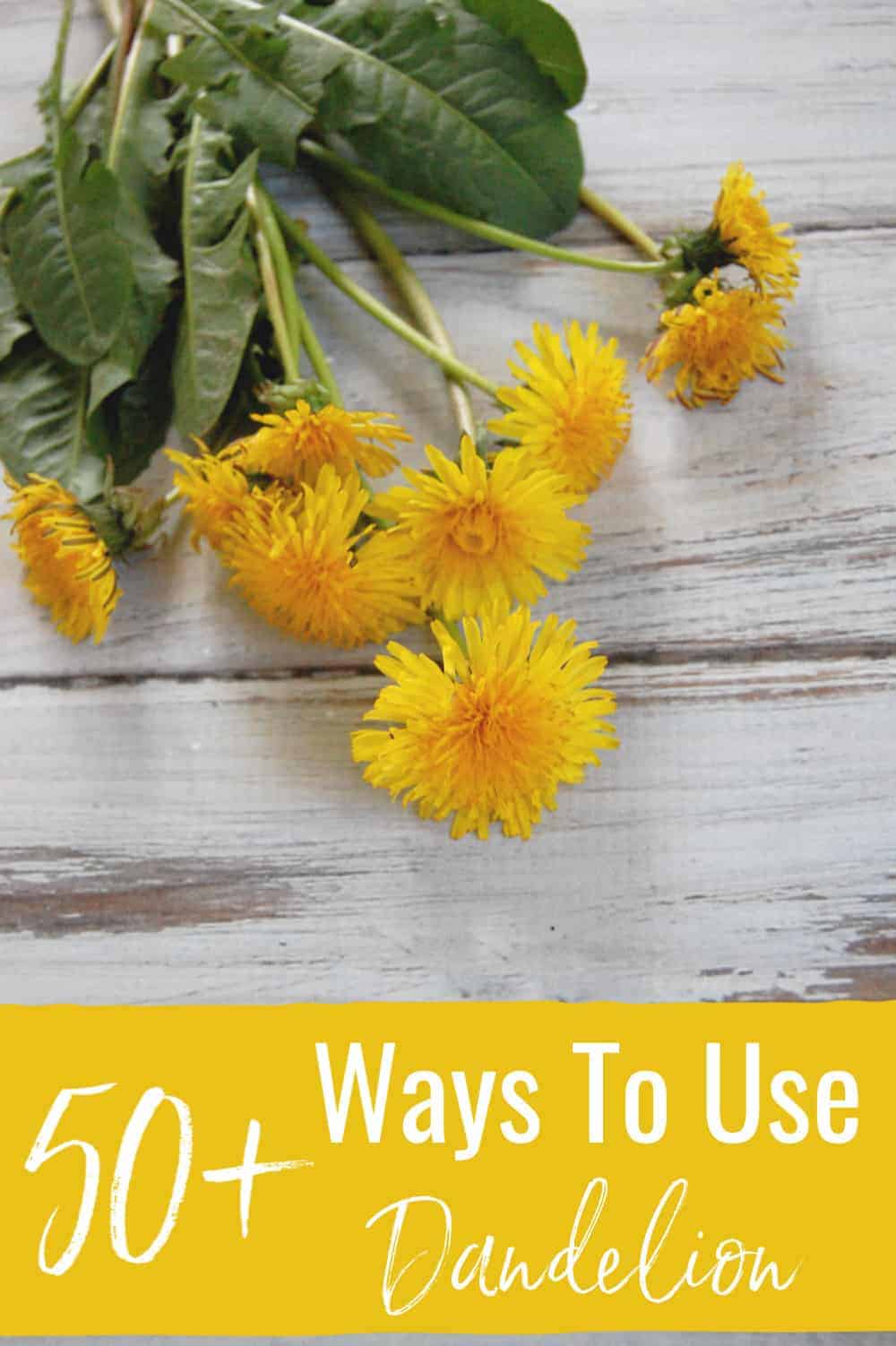 50+ Ways To Use Dandelion (Roots, Leaves, Flowers)

How to Use Dandelion in Skincare
Dandelion Sugar Scrub – The Pistachio Project (pictured)
DIY Dandelion Lip Balm – Scratch Mommy
Dandelion-Infused Hand Lotion – Scratch Mommy
Dandelion Salve & Lip Balm For Cracked Skin – Simply Beyond Herbs
Dandelion Salve – Mommypotamus
Dandelion Root Facial Toner Mist – Naturally, Ari
Dandy Facial Serum – The Herbal Academy
Dandelion Oil Lotion Bars – Learning and Yearning
Natural Dandelion Bath Bombs – The Nerdy Farm Wife
Dandelion and Honey Liquid Soap – The Nerdy Farm Wife
Dandelion Soap – Soap Deli News
Dandelion Citrus Lotion Bars – Confessions of an Over-worked Mom
Dandelion Shampoo Bars – The Nerdy Farm Wife
Whipped Dandelion & Coconut Oil Moisturizer – The Nerdy Farm Wife
Sunscreen Made With Dandelions – Simply Beyond Herbs
Dandelion Bath Bombs – The Nerdy Farm Wife
How to Use Dandelion as Remedies
Dandelion Magnesium Lotion for Muscle Cramps – Small Footprint Family
How to Make Dandelion Tincture – Practical Self Reliance
Plantain and Dandelion Cough Syrup – Simply Beyond Herbs (pictured)
Making and Using Dandelion Oil – Homespun Seasonal Living
Dandelion Root Bitters – Grow Forage Cook Ferment
Dandelion Root Infused Honey – Homespun Seasonal Living
Savory Foods That Use Dandelion
Dandelion Muffins – Montana Homesteader
Dandelion Quiche – They're Not Our Goats
Fried Dandelion Blossoms – Simply Beyond Herbs
Dandelion Flower Fritters – Learning and Yearning
Dandelion Leaf Pesto – Learning and Yearning (pictured)
Dandelion Salad with Warm Pecan Vinaigrette – Small Footprint Family
Spring Tuna Salad with Dandelion – A Better Way To Thrive
Cream of Dandelion Soup – Nature's Nurture
Sautéed Dandelion Greens with Eggs – A Beautiful Plate
Pickled Dandelion – Fresh Bites Daily
Fermented Dandelion Stems – Learning Herbs
Dandelion Egg Noodles – Homespun Seasonal Living
Homemade Dandelion Bread – Homespun Seasonal Living
Nettle Seed & Dandelion Blossom Bars – Gather Victoria
Dandelion Capers – Practical Self Reliance
Dandelion Vinegar – Grow Forage Cook Ferment

Sweet Foods That Use Dandelion
Dandelion Jelly – Common Sense Home
Dandelion Honey Butter – The Homesteading Hippy
Dandelion Gelatin – Homestead Lady
Dandelion Sourdough Pancakes – Montana Homesteader
Dandelion Flower Syrup – The Herbal Academy
Dandelion and Honey Gummy Bears – Adamant Kitchen
Dandelion and Honey Marshmallows – Adamant Kitchen
Dandelion and Honey Ice Cream – Practical Self Reliance
Dandelion Shortbread Cookies – Adamant Kitchen
Dandelion Cupcakes – Simply Beyond Herbs
Dandelion Flower Cake – Mountain Rose Herbs
Candied Dandelion Flowers – Hybrid Rasta Mama
Beverages That Use Dandelion
Dandelion Root Herbal Coffee – The Homestead Garden
Chocolate Dandelion Milkshake – Homestead Lady
Violet and Dandelion Pink Lemonade – Learning and Yearning
Dandelion Soda (Naturally Fermented) – Homestead Honey
Dandelion and Strawberry Shrub (Drinking Vinegar) – Learning Herbs
Dandelion Mead – Grow Forage Cook Ferment
Dandelion Wine – Small Footprint Family
Dandelion & Elderflower Champagne – Everblossom
Roasted Dandelion Root Chai – Learning and Yearning
Dandelion Mocha – Nourished Kitchen
Dandelion Tea – The Homesteading Hippy
Spiced Dandelion Tea – A Traditional Life
"Butterscotch" Dandelion Tea – It's a Love/Love Thing
Pregnancy Tea – The Pistachio Project
Dandelion Green Smoothie – Scratch Mommy
Dandelion Greens Smoothie Cubes – All The Nourishing Things