I may receive commissions from purchases made through links in this article. Full Disclosure
This decongestant diffuser blend for kids is a must have for sick kids! It helps gently open up their air ways and allows them to breathe easier.
I don't know about you but when it comes to sick kids, nothing bothers me more than coughs and congestion.
Don't get me wrong, when my kids get sick I will work all my natural remedy magic on them to get them better.
I brew gallons of my lemon thyme tea, I rub kid-friendly vapor rub on them, and of course we up our dosage of elderberry syrup…but coughs and congestion just kind of need to run their course.
That doesn't stop me from trying every natural decongestant remedy out there!
One life savor remedy is this decongestant diffuser blend for kids.
When fall comes around, I make sure to stock up on the needed essential oils because I know I'll be using them every time the kids come down with a cold. (psst: the essential oils needed for this diffuser blend are the same ones needed for the kid-friendly vapor rub!)
There are many decongestant diffuser blends out there and many of them are great… but not all of them are kid safe!
Did you know that some essential oils are not safe for kids?
Two favorite essential oils for colds are rosemary and eucalyptus but rosemary shouldn't be used on kids under 6 years old and eucalyptus shouldn't be used on kids under 10 years old!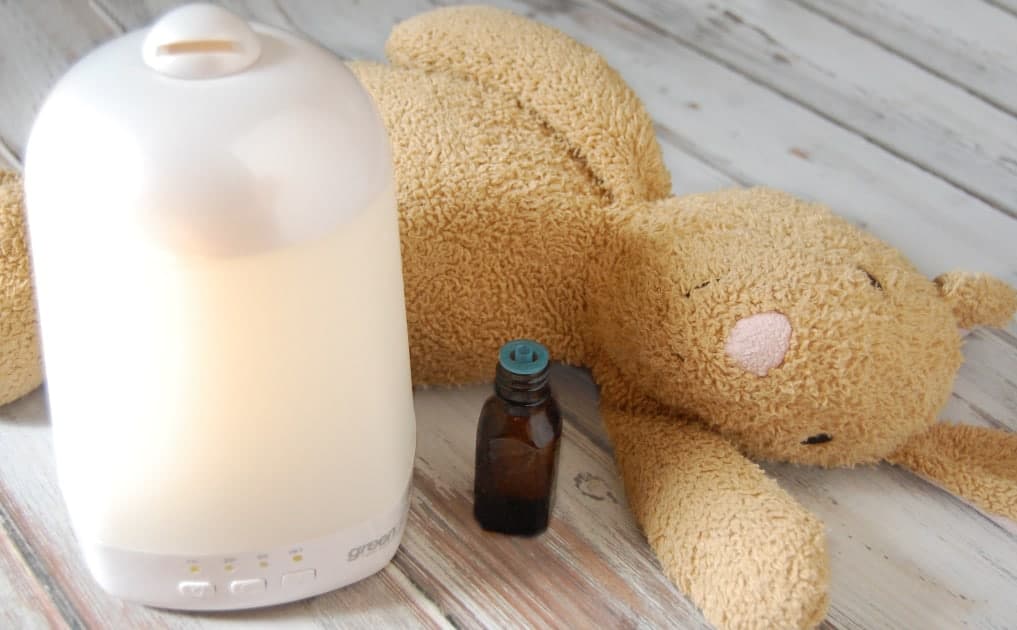 What Essential Oils are Safe For Kid's Congestion Relief?
Thankfully, there are kid safe alternatives to these congestion relieving essential oils!
In my decongestant diffuser blend for kids, I use pine essential oil and lavender essential oil.
Pine Essential Oil (or you can replace Pine for Fir if you'd like)
Pine is a wonderful decongestant and it is antibacterial and antiviral! It's a great kid safe alternative (but still effective) respiratory essential oil.
Lavender Essential Oil
Lavender is a very gentle essential oil but don't let that fool you into thinking it's not powerful! Lavender is added to this blend for a few reasons.
One it's antiseptic and antibacterial which is very welcomed with colds!
Lavender can also gently open up air ways which is helpful when dealing with congestion.
This is main reason I add it to this decongestant blend but… lavender is also a great "sleepy time" essential oil and if you're a parent with a sick child, you know all too well that you want to help them sleep!
What Diffuser to Use
There are so many great diffusers out there. There are different diffuser varieties so it's worth doing some investigating into which diffuser is the best for you.
My favorite diffuser for kids (and honestly, the price leads me to make it my pick for any room!) is this ultrasonic diffuser from GreenAir. It's simple, easy to use, affordable, and it's plastic so you don't have to worry about it breaking in your child's room.
Decongestant Diffuser Blend For Kids
3 drops pine essential oil
2 drops lavender essential oil
Directions:
Fill diffuser with water and add in essential oils.
Turn diffuser on and let it do its magic (best on intermittent setting)