I may receive commissions from purchases made through links in this article. Full Disclosure
This refreshing avocado mint smoothie is a great way to get your cravings settled while getting tons of nutrients! Super simple, super healthy!
I have gone years thinking avocados were gross… I know, I know! How could anyone not like avocados?
I still won't admit that I like them but I've come to like there in some ways, particularly when there are pretending to be a cream base in something delicious… like this refreshing avocado mint smoothie!
Using Avocados in Smoothies
If you've never added avocado to your smoothies, you are in for a real treat!
Avocados make for an amazingly creamy smoothie and no, your smoothie will not taste like guacamole! They make great alternatives to the standard banana in smoothies!
Besides making your smoothies oh-so smooth, avocados also have a ton of health benefits which of course is why we love them so much!
Avocados are great sources of healthy fat which is beneficial to your heart and brain. Packed with fiber, protein, and nutrients yet still low in carbs for those of you going keto, paleo, or whole30!
Avocado is obvious the star in this avocado mint smoothie so you'll want to stock up the next time you are at the grocery store!
Speaking of stocking up, I've got an avocado tip for you! Freeze your avocados!
How to Freeze Avocados
Simple slice avocados into cubes and then freeze in a flat single layer.
Once frozen you can transfer to your favorite freezer container. They defrost pretty nicely if you want to use them for tacos or chili but you can use them frozen for an extra creamy smoothie!
A Healthy Shamrock Shake Alternative
I'm writing this post just before St. Patrick's Day which of course is around the time when everyone goes crazy about shamrock shakes.
I doubt I need to tell you that shamrock shakes are hardly healthy so if you are just dying for one of those lovely green drinks you can opt for this avocado mint smoothie instead!
It's also great for if/when you get a shamrock shake craving and St. Patrick's Day is far away. You can have this refreshing minty green smoothie any time of year!
This recipe only requires a handful of ingredients.
You'll need the milk of your choice (non-dairy milk can make this keto, paleo, or whole30!), avocados, mint extract, and stevia. If you don't love stevia you can always sub in a couple tablespoons of honey.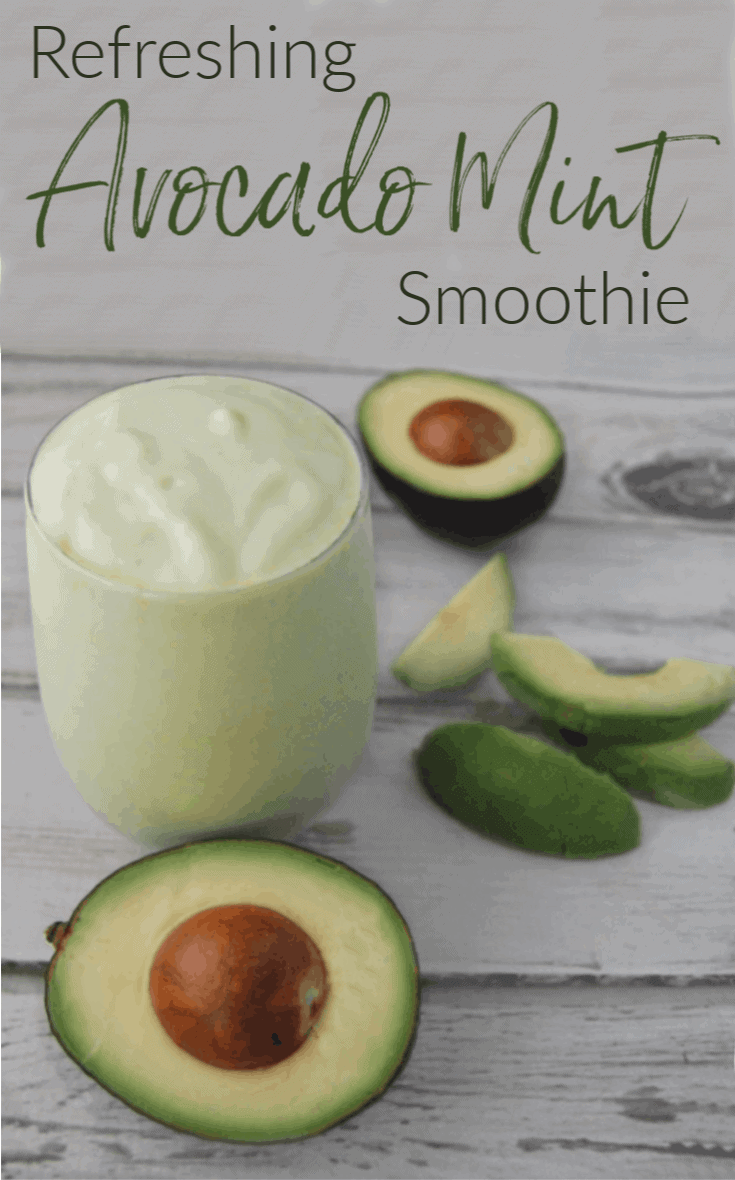 Refreshing Avocado Mint Smoothie
(makes roughly 2 cups)
2 cups milk (dairy or non-dairy)
2 avocados (preferably frozen)
1/4 tsp mint extract
1/8 tsp stevia powder
Directions:
Add all ingredients to your blender and blend aways!
Pour into your favorite glass/jar and sip through your favorite reusable straw!
Note: If your avocados were not frozen, you may want to toss in a few ice cubes so that your smoothie is a bit cooler.
Need more delicious smoothies? Try these:
Energizing Matcha Smoothie
Carrot Cake Smoothie
Chocolate Zucchini Bread Smoothie