I may receive commissions from purchases made through links in this article. Full Disclosure
The following is a guest post from Rachel Linden.
I'm a novelist who pens women's fiction set in exotic locales and my husband works for an international NGO. We travel a lot!
When we had our son, now almost 4, we didn't slow down much. We just put him in the baby carrier and boarded a plane, bus or train for the next country!
By the time he was 2 he had stamps from 22 different countries in his passport! Then we added our daughter, now 17 months, to the mix and our travel got even more exciting!
Although I'm the first to admit that travel with kids can be exhausting, stressful and waaaaaaay more complicated than just traveling with adults, we love to travel as a family.
Some of our best memories are made through our travels together. That said, there are some good tips and tricks we've learned along the way that help us stay healthy when traveling with kids!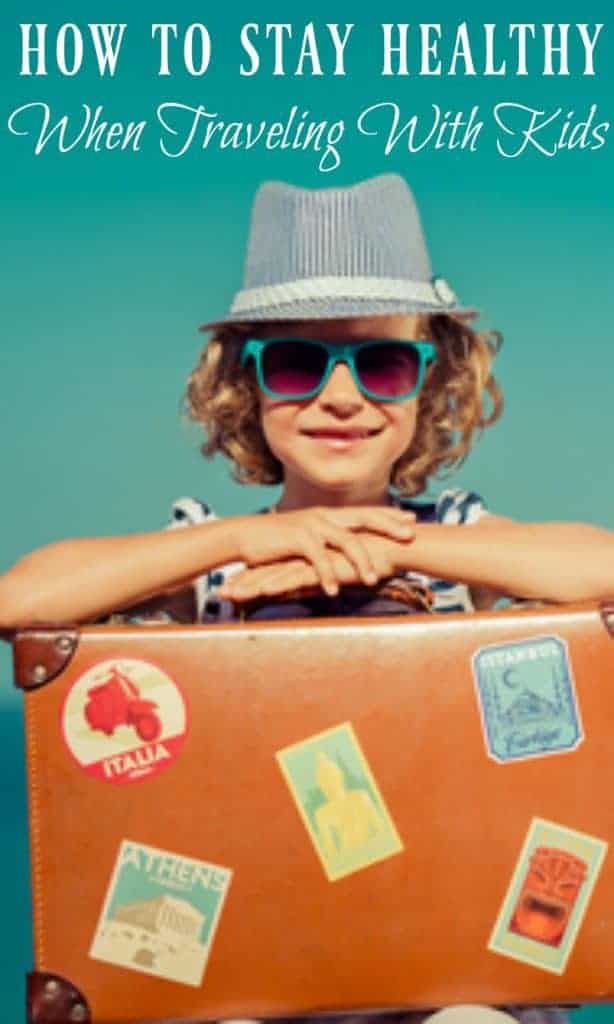 How to Stay Healthy When Traveling With Kids
Sleep
Often travel throws kids' sleep routines out the window, especially if there are multiple time zones involved. Sleep can be tough, but with a little preparation, you can make the best of the transition. Here are a few things we've found to be helpful.
Bring Comfort Items – Remember to pack child's comfort item. Also bring a backup! For my son, it was a striped giraffe named, ironically, Moose. We had 2 Moose. One was his travel buddy and one was a spare just in case some terrible fate befell Moose #1. Because the odds of finding a replacement Moose when traveling were about nil.
Block Out Sounds – Bring a portable sound machine (make sure it is able to handle 110/220 voltage) or use a white noise app to drown out loud outside noises. A particularly bad night in India with a dog barking outside our window until 4 AM springs instantly to mind. Oh how I love earplugs and white noise!
Block Out Light – If your child is light sensitive, bring a portable blackout shade or a dark sheet and some clothespins to help darken the room.
Reset Circadian Rhythms – Keep kids outside in sunlight as much as possible as this helps reset circadian rhythms. If you are okay with this, you can also give small amounts of melatonin at bedtimes to help with sleep. We give a bit to our older son when we travel and it does seem to help him adjust better.
JetLag – Assume that a child will take about one night per hour of time change to get over jetlag. So going to Europe from Seattle? It may roughly 10 days until your kids are fully adapted to the 10 hour time change. Some adapt faster than that, but the 1 day per hour of time change is a good rule of thumb.
Food
It can be really tricky to eat healthily while traveling, especially with children. We usually try to eat as much of the local food as possible and have discovered to our surprise that our kids like all sorts of international dishes. But for plane/train/bus travel and those times when kids might need something familiar, we travel with a food pack consisting of the following.
Granola – Homemade granola (because you can almost always find milk or milk alternative or yogurt in every culture and presto, you have breakfast or a hearty snack!)
Healthy Snacks – Healthy snack bars, dried fruit and nuts. You can make your own bars or try RX bars (our personal favorite) or other natural bars. Dried fruit and nuts are good source of calories and they last a long time!
Fresh Snacks – Portable food like hard boiled eggs, sliced cheese or cheese sticks, cut fruit and veggies for the plane. Just remember to eat it all before landing as most of it is illegal to bring into another country.
Gluten Free Foods – I am gluten intolerant and have found many countries do not have any gluten-free products available. Some do, but don't assume all will. I bring anything I need with me, just to be safe.
Safe Water – While eating local food can be a fabulous experience, be very careful about local water. Many places do not have acceptable safety standards for water. Bring your own filter or buy filtered water to be safe.
Fun
and Entertainment
Helping kids stay engaged and entertained while traveling can be tough, especially if you are wanting to limit screen time. We have found several activities that will entertain kids at least for awhile. Aim for variety and try to keep the day going as much as possible in a consistent routine.
Keep Routines – Try to eat, sleep and play in your normal rhythms as much as possible. It helps keep kids relaxed if their familiar routine is followed as much as possible.
Bring a Variety of Activities – We usually travel with a bunch of small play items to keep variety. Also young children love the plane itself and will spend hours playing with the tray table, armrest, etc. Our kids love small etch-a-sketches, paint with water booklets, and I Spy or lift the flap discovery books. Also books on tape might be a good option for longer trips. For older kids, small crafts work well.
Safety and Hygiene
While travel is exhilarating, it can also be more hazardous than your normal daily routine. To minimize the inherent risks while traveling, we always bring the following.
Car Seats – Safe, portable car seats. Trust me on this one. Even though a car rental agency or transport service claims to have cars seats, many of these are broken or old and unsafe. I have some horror stories that still make me shudder! We now always travel with safe, portable car seats. Ours are Brica, very inexpensive and lightweight but a good, safe car seat.
Baby Cribs – Same goes for baby cribs. Lots of hotels have baby cribs available but many are old and unsafe. Some have even been broken! We use a wonderful Guava travel crib that our kids both love. It's light, portable, and very safe.
First Aid Kit – Bring any necessary medicines or herbal/alternative treatments you need. We always travel with rehydration powder (which you can buy or make yourself) for kids. Traveling with an antihistamine is also a good idea, just in case your child has a reaction to something new.
Medical care is often more rudimentary in other countries than in the US, so it is better to bring what you need with you. However, some countries rely far more on alternative, herbal treatments, so you can also consult with local doctors and possibly find good alternative treatments not available in the US if you have a problem. In Budapest where we lived for 5 years there are whole pharmacies devoted to alternative medicines.
Necessities – Bring toilet paper and some form of hand sanitizer (we use cheap vodka in an atomizer), a change of clothes for each child (because accidents seem to happen surprisingly often in travel), and your own sunscreen. Sunscreen abroad is often expensive, full of chemicals, and not as effective as what is available in the US.
Diapers – If you cloth diaper, consider whether you will have access to a washing machine and remember that most places in the world do not have dryers. We cloth diapered in Budapest and just hung everything over radiators or in the sun which worked fine. If you are concerned, consider buying some eco-friendly disposable diapers. I have never seen these in Europe, so bring what you need with you unless you are just traveling in the US.
Remember that so much of the joy of travel is in the unknown, the unexpected, the otherness of a foreign place. Locals are often amazingly hospitable and kid-friendly. We had Korean Air flight attendants treat our son like a rock star and Moroccan old men dance in the street for him. Traveling with kids can be a wonderful adventure that brings out the best in other cultures. Be flexible, be open, and you can make amazing memories as a family!
With a little preparation, a lot of patience and a good sense of humor, you can have a fabulous time and stay healthy when traveling with kids.
Rachel Linden is a novelist and international aid worker who lives in beautiful Seattle, Washington with her husband and two young children. Rachel enjoys creating stories about hope, courage and connection. You can find her at www.rachellinden.com. Her newest novel, Becoming the Talbot Sisters, takes place in Budapest and celebrates courageous women being every day brave.