I may receive commissions from purchases made through links in this article. Full Disclosure
Wish you could have a green tea frappuccino without all the sugar and crazy ingredients? Try this Energizing Matcha Smoothie!
I'm a frappuccino addict. A green tea frappuccino addict to be precise. It all started years ago when I friend introduced me into the the world of these frozen delights.
But through the years, I've come to realize that even thought they might contain beneficial green tea, the frappuccinos are also fun of sugar (or artificial sugar) and other crazy, not beneficial ingredients.
This left me with a problem. I wanted green tea frappuccinos but I didn't want all that junk. My wallet would also appreciate having less of my money go to silly drinks.
Thankfully, I'm also addicted to smoothies and it was just a matter of time before I realized I could make up my own version of a green tea frappuccino only way better and healthier.
Thus my energizing matcha smoothie was born.
Matcha is green tea just in case you were wondering. Matcha is green tea in condensed form if you will. Matcha is simply green tea in powder form.
1 cup of matcha is the equivalent to 10 cups of green tea when it comes to the nutritional benefits!
What's so Great About Matcha?
Extremely High in Antioxidants
Antioxidants are what help your body deal with the free radicals that would rather destroy healthy tissue. Antioxidants also help you maintain a healthy immune system.
Energy Boosting
Many people turn to coffee for their energy but that can leave you with jitters and caffeine crashes. Matcha has less caffeine than coffee but it is a slow release caffeine.
This means matcha can help give you a nice steady energy for 3-4 hours without the crazy spike and crash that coffee usually gives.
Metabolism Boosting
I've always had a slow metabolism so adding matcha to my daily life is a very happy thing.
Matcha has been shown to help increase weight loss just in general and it can also help burn more fat during exercise if you drink matcha beforehand.
Calming
As a mom, I need all the calm I can get. Thanks to the amino acid L-Theanine in Matcha can induce relaxation without drowsiness.
Detoxifies
Matcha can help naturally remove all the toxins that our bodies absorb.
This is a nice subtle detoxification by the way. No crazy flushing of toxins so you don't have to worry about any crazy side effects.
Which Matcha to Buy
Now matcha comes in different grades. Cerimonial grade is the superior grade but it comes at a superior price tag.
When it comes to a matcha that you will be mixing into recipes (like this smoothie) then you can lower your grade down to Culinary grade.
Color is also important. You want bright green.
Culinary grade matcha will not likely be as vibrant green as ceremonial but it sound still be bright. You do not want the greenish brown stuff.
Organic is of course, always important. Matcha is also best produced in Japan so stick with that.
There are so so many brands out there and I've finally settled on an organic, Japanese culinary matcha that is a nice green and yet still affordable.
On top of the amazing matcha you also get collagen in this smoothie! Collagen is an amazing source of protein and is beneficial for hair, skin, and nails.
For those curious, collagen is just gelatin but processed a bit further so that it does not clump in cold liquids.
I like to use stevia in this smoothie to sweeten things up without the calories but if you aren't a fan of stevia then just sub in 2 tbs of your preferred sweetener.
Of course, you don't even need to know all the health benefits of an Energizing Matcha Smoothie in order to enjoy it.
This smoothie just tastes amazing! Drinking it just for taste alone is a good enough reason!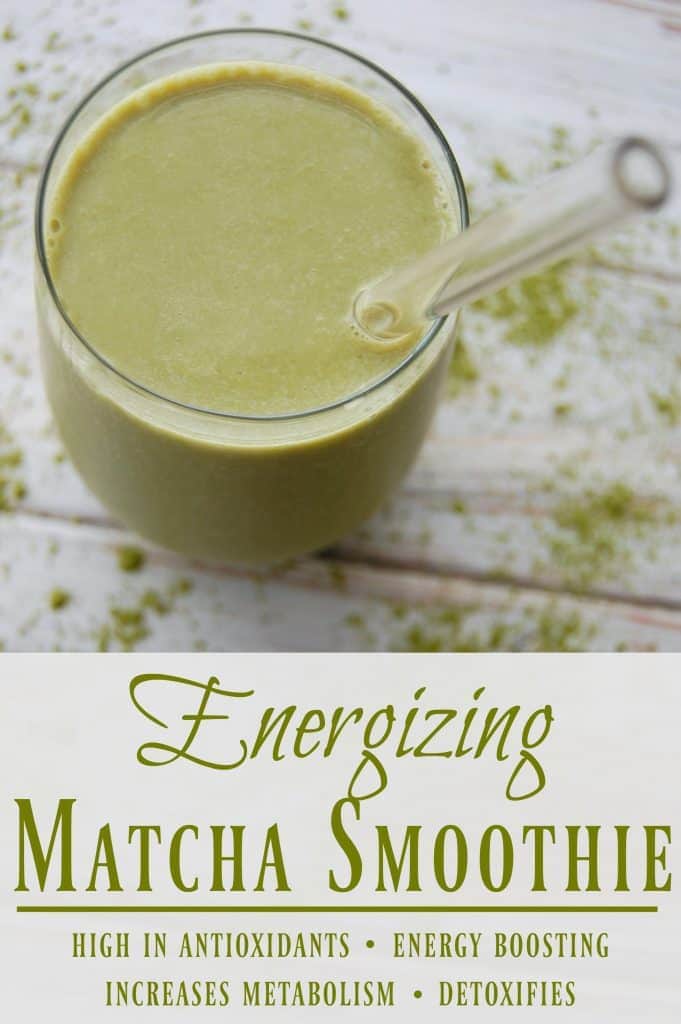 Energizing Matcha Smoothie
1 cup milk of choice ( I prefer cashew milk)
1 frozen banana
1/16 tsp stevia powder (or 2 tbs preferred sweetener)
1 1/2 tsp matcha
2 tbs collagen
Directions:
Blend milk and banana until smooth.
While blender is still running, add in remaining ingredients.
Energizing matcha smoothie is ready once fully blended.
Pour into your favorite glass/jar and sip through your favorite reusable straw!
Note: A handful of ice can be added to the blender at the end to make this smoothie a bit lighter and closer to frappuccino consistency.