I may receive commissions from purchases made through links in this article. Full Disclosure
I think you'd be very hard pressed to find someone who has not heard of essential oils! Essential oils are the hottest thing around, when it comes to natural health and even if you aren't interested in the health aspects, they are pretty popular just because they smell good!
But do you know how to use essential oils safely?
Essential oils work so well when it comes to health and even just diffusing into the air can make you feel great. It's easy to feel think that since essential oils are natural they don't have any harmful aspects but that's not true.
Essential oils are powerful which is why they work but that's also why you have to use them safely!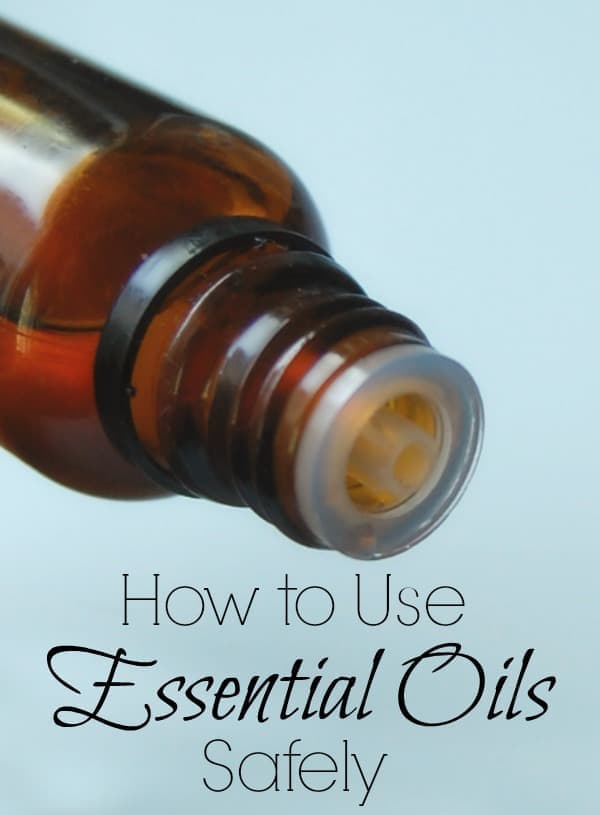 How to Use Essential Oils Safely
Essential Oils and Children
Little ones' bodies are smaller, their skin more permeable, their respiratory systems more sensitive and because of this some essential oils are not safe to use topically or diffused near children. It also means that any of the safe essential oils need to be diluted to proper levels before using on children.
Dilute essential oils in a carrier oil to 0.25% for ages 6 months – 6 years old and up to 1% for ages 6 years and older. (see chart below)
I'm going to share some of the popular essential oils that need to be avoid as well as the popular essential oils that are safe but this is not an extensive list!
Essential Oils to Avoid Using on Children
Anise/Aniseed Pimpinella anisum – avoid using on children under 5 years
Cassia Cinnamomum aromatic – avoid using on children under 2 years
Clove Syzygium aromatic, Eugenia caryophyllata, Eugenia aromatica – avoid using on children under 2 years
Eucalyptus Eucalyptus camaldulensis, Eucalyptus globulus, Eucalyptus maidenii, Eucalyptus plenissima, Eucalyptus kochii, Eucalyptus polybractea, Eucalyptus radiata, Eucalyptus Autraliana, Eucalyptus phellandra, Eucalyptus smithii – avoid using on children under 10 years
Fennel (bitter), Fennel (sweet) Foeniculum vulgare – avoid using on children under 5 years
Lemongrass Cymbopogon flexuosus, Andropogon flexuosus, Cymbopogon citratus, Andropogon citratus – avoid use on children under 2 years
Oregano Origanum onites, Origanum smyrnaeum, Origanum vulgare, Origanum compactum, Origanum hirtum, Thymbra capitata, Thymus capitatus, Coridothymus capitatus, Satureeja capitata – avoid using on children under 2 years
Peppermint Mentha x Piperita – avoid using on children under 6 years
Rosemary (1,8-cineole chemotype) Rosmarinus officinalis – avoid using on children under 6 years
Thieves Blends (or any equivalent blends. These contain essential oils to avoid) – avoid using on children under 10 years
Verbena (Lemon) Aloysia triphylla, Aloysia citriodora, Lippa citriodora, Lippa triphylla – avoid using on children under 2 years
Wintergreen Gaultheria fragrantissima, Gaultheria procumbens – avoid due to methyl salicylate content
Ylang-Ylang Cananga odorata – avoid using children under 2 years
Essential Oils You Can Use on Children
(safe for children over the age of 2 years. For younger children hydrofoils or herbs are generally preferred)
Bergamot
Cedarwood
Clary Sage
German Chamomile
Geranium
Helichrysum
Lavender
Lemon
Pines – except Ponderosa Pine (Pinus ponderosa), or Huon Pine (Dacrydium franklinii)
Sweet Orange
Tea Tree
Vetiver
This list has been put together according to the book: Essential Oil Safety. For the full breakdown of safe and unsafe essential oils for children, I encourage you to check out the above mentioned book or check out this list.
Essential Oils and Pregnancy
Much like children, pregnant women are more susceptible to things and like children, pregnant women should avoid some essential oils.
Pregnant women should dilute essential oils in a carrier oil to 1%.
For a list of which essential oils to avoid during pregnancy (and which ones you can use) please check out this list.
How to Dilute Essential Oils
In order to dilute essential oils, you simply need to add the essential oils to a carrier oil.
A carrier oil is any basic oil such as coconut oil, olive oil, or jojoba oil. However,  a person's age or needs will determine how many drops of essential oils you need to use in your dilution.
6 months – 6 years
0.25% dilution
6+ years, pregnant women, elderly
1% dilution
Adults
2% dilution
Adults (for short term use with a specific health concern)
3% dilution
The general rule of thumb is that 1 drop for 1 teaspoon equals a 1% dilution. This is a great easy way to remember things but here is a handy chart for the listed dilutions.
Can You Ingest Essential Oils
Well… yes, you can ingest essential oils BUT you should only do so under the care of a trained aromatherapist. We've already established that essential oils are extremely strong when used topically and diffused. This is all the more so when used internally.
If you feel you must ingest essential oils please do so with the help of a trained aromatherapist and never drink essential oils that are only diluted in water.
How to Remove Essential Oils
You should avoid using essential oils in your eyes, ears, or nose but in the event that you need to remove essential oils always remember that like removes like!
You do NOT want to remove essential oils with water.
First rinse, it off with a fat based liquid such as oil or milk (milk is great for rinsing out eyes). After you've rinsed out with a fat based liquid then you can rinse with water.