I may receive commissions from purchases made through links in this article. Full Disclosure
Learn how to make toothpaste for kids with this Kid Friendly Strawberry Toothpaste. It's so easy to make, pretty inexpensive, and kids LOVE the flavor!
When it comes to oral health, brushing our teeth is one of the most important things that we can do.
This habit is so important that from the moment we see that first tooth in our baby's mouth, we are supposed to start brushing their teeth.
This healthy practice continues to be so important that it's something that we teach our children to do so that they can continue having great teeth.
Toothpaste is something every person needs. Adults and kids alike use toothpaste but it's rare that children like the minty toothpaste that their parents use.
Since kids sometimes need extra coaxing to get them to brush their teeth and because we all would rather use a toothpaste that tastes great, companies have developed dozens to kid toothpastes in a variety of kid approved flavors.
The Problems with Many Kid Toothpastes
Unfortunately most store bought kid toothpastes are full of ingredients that I do not want going anywhere near my kids mouth.
Have you read the ingredient list on a kid toothpaste? They are full of crazy ingredients that most of us have no clue as to what they are!
Ingredients like propylparaben, methylparaben, propylene glycol, sodium fluoride, cocamidopropyl betaine, artificial colorings, and more!
Most of these ingredients come with allergen concerns, organ system toxicity concerns, endocrine disruption concerns… Toothpaste should not come with concerns!
If you are curious as to what's lurking in your kiddo's toothpaste then I encourage you to head over to EWG's cosmetic database, plug in the toothpaste name, and see what is going in your little one's mouth.
Now that I have you all worried about toxins in your child's toothpaste, I'm going to tell you that it's easy to switch to a safe and natural kid toothpaste.
There are some natural brands out there if you want to buy safe kid toothpaste.
They are great when you are short on time although they often are pricey and even the natural brands can have ingredients that I'd rather avoid.
Even natural ingredients like glycerin can be a concern. Glycerin is in almost every single toothpaste but the problem is that it coats your teeth and prevents them from remineralizing.
The solution? DIY Kids Toothpaste!
This DIY strawberry toothpaste is inexpensive, easy to make, just as effective, and you'll know all the ingredients that go into it!
What Ingredients Are in the Kid Friendly Strawberry Toothpaste?
Xylitol – You might recognize this ingredient from many toothpastes and chewing gums. Xylitol is a sweetener so it helps make the toothpaste yummy but it's a sweetener with perks because it also prevents cavities and can even help remineralize teeth!
Note: xylitol is toxic to dogs so make sure your dog does not have access to xylitol.
Coconut Oil – Coconut oil is a popular toothpaste ingredient thanks to it's antibacterial and anti-fugal properties. There's also evidence that coconut oil helps fight cavities!
Strawberry Flavoring – While there really aren't any reasons to include the strawberry flavoring for oral health, it does make this toothpaste taste similar to many kid toothpastes on the market.
A kid friendly flavor is always a helpful thing when getting kids to brush their teeth!
If your child is more fond of orange flavored toothpaste, I have a kid friendly creamsicle toothpaste!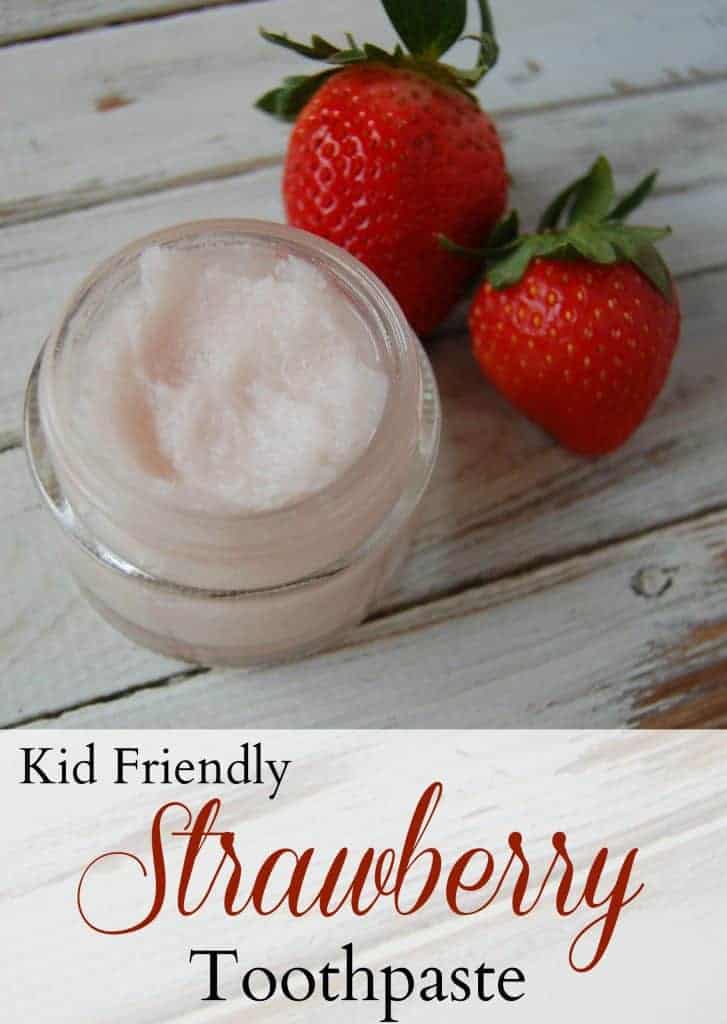 Kid Friendly Strawberry Toothpaste
1 tbs xylitol – finely ground
2 tbs coconut oil – softened
1/8 tsp strawberry flavor extract

Directions:
In a small bowl, mix all ingredients together.
Transfer toothpaste to a storage container.
To Use:
Scoop out a tiny bit each time you need to brush teeth.
You may want to reserve a popsicle stick or some such tool for scooping out toothpaste to avoid contaminating the toothpaste.
Note: The above listed strawberry flavor extract contains glycerin, many prefer to avoid glycerin as it coats the teeth and keeps them from remineralizing.
I'd suggest using an extract (although you'll want to check out those ingredients as well) or Natures flavors offers strawberry flavoring which I believe does not contain glycerin.