I may receive commissions from purchases made through links in this article. Full Disclosure
Essential oils will make for lovely scents but they also purifying and deodorizing your home. Find out how to clean the air with essential oils!
Essential oils are the big thing right now. Everyone has suddenly jumped on the essential oil wagon and for good reason too! Essential oils are very strong and very effective.
These aren't just lovely smells in a bottle either; essential oils actually have health benefits ranging from acne treatment to mood boosters and everything in between.
But did you know you can clean the air with essential oils?
Knowing that essential oils are so effective, it should come as no shock that you can actually clean the air in your home with essential oils.
At first, it might just seem like you are filling the house with pretty smells but essential oils can actually help purify the air.
Essential oils are not like many "air fresheners" that are on the market; those just mask dirty smells with their fragrances.
With essential oils you get the lovely scents and the benefit of purifying and deodorizing your home.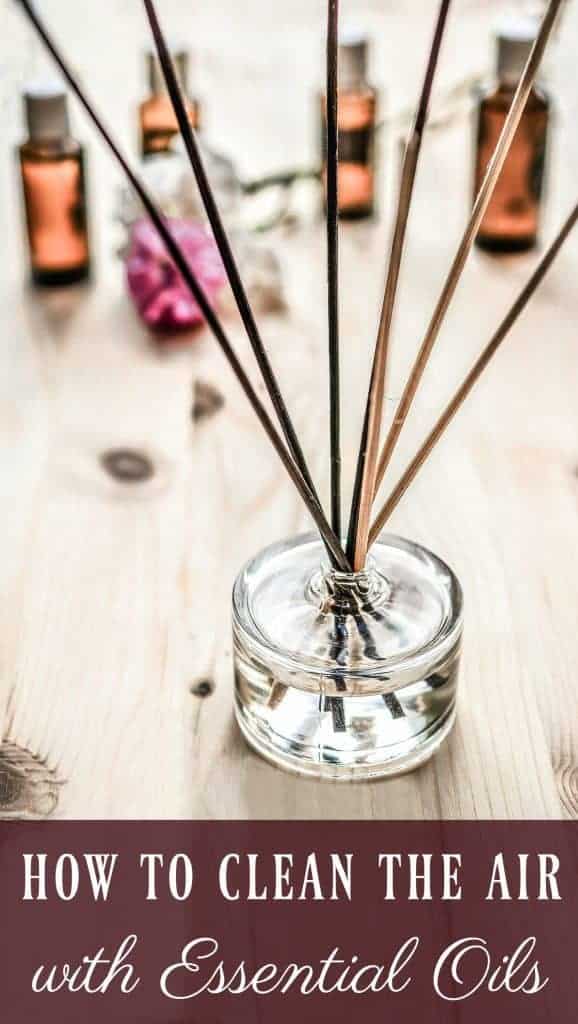 How to Clean the Air with Essential Oils
Diffusers
Electronic diffusers help disperse the essential oils into the air. Only a few drops and your whole house can be filled with the smell (and benefits) of essential oils.
There are many diffusers on the market. I have and love this one.
Sprays
You can easily make your own essential oil room sprays with just a few ingredients. This can be a quick way to make your house smell lovely and clean the air.
Reed Diffusers
While reed diffusers are unlikely to disperse essential oils to the same extent as electric diffusers or sprays, they are an inexpensive method and certainly can't hurt to try.
You can make them yourself for just a fraction of the cost that you would spend on store bought versions.
Wax Melts
Scented wax melts have been popular for awhile now. I remember my mom using them all the time.
Unfortunately, store bought wax melts are usually made with artificial scents and some other not so nice ingredients.
Good news is that you can easily make your own by basically mixing wax and essential oils but you can get the full instructions here.
Which Essential Oils to Clean the Air
Balsam Fir
Clove*
Eucalyptus*
Frankincense
Ginger
Grapefruit
Lavender
Lemon
Lemongrass*
Lime
Peppermint*
Pine
Rosemary*
Sage*
Sweet Orange
Tangerine
Tea Tree
Wintergreen*
*Some essential oils are not recommended for children or pregnant women. I've made notes of these ones so that you can avoid using them if you have children or are pregnant.
For full details you can check out this post for essential oils and kids and this post for essential oils and pregnant women.
Clove -avoid with children under 2
Eucalyptus – avoid with children under 10
Lemongrass – avoid with children under 2 / avoid during pregnancy
Peppermint – avoid with children under 6
Rosemary – avoid with children under 6 / avoid during pregnancy
Sage – avoid with children under 6 / avoid during pregnancy
Wintergreen – avoid child children / avoid during pregnancy