I may receive commissions from purchases made through links in this article. Full Disclosure
Ready to start cloth diapering but not sure if you should go with snaps or hook & loop? Learn which diaper closure to choose: Snaps vs Hook & Loop!
We've come a long way since the days of pins when it comes to cloth diapers.
Now cloth diapers are as simple as disposable diapers; you just lay one down, put your baby on it, fold up, and secure. No poking, no pricking – just fast and easy.
How are cloth diapers secured now? Cloth diapers use either Snaps or Hook & Loop to secure the diaper on the baby.
I've used both methods for securing our cloth diapers and they both have their advantages and disadvantages.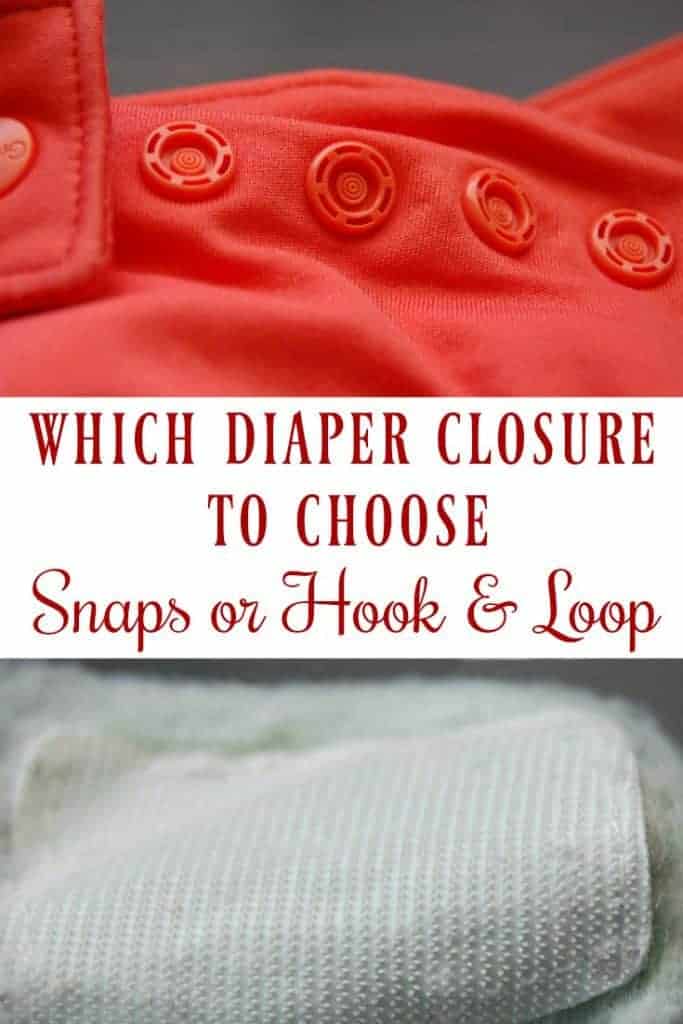 Which Diaper Closure To Choose: Snaps vs Hook & Loop
Snaps
Snaps are attached to the diaper to help secure the diaper. Snaps are generally made of plastic so they will not rust.
Pros:
Harder for a toddler to remove diaper
Easier to wash
Lasts longer
Cons:
Takes a bit longer to secure – but not by much
May be harder to get a perfect fit.
Hook & Loop
Hook & Loop, also known as Velcro or Aplix is the closure method that is the most similar to the way disposable diapers secure.
Most hook & loop diapers also have laundry tabs that help keep the hook & loop stuck to itself and not to the rest of your laundry.
Pros:
Easy to get the fit that you desire
Fast to put on
Easy for non-cloth diaper users to manage
Cons:
Can stick and potentially mess up other clothing when washing
Tends to wear out faster than snaps
Easy for a toddler to remove
Usually needs lint cleaning maintenance
As you can see, there's really no perfect closure choice. I have and use both methods.
I personally like hook & loop for newborns and younger babies because it gives me that perfect fit which is hard to get before the baby chunks up a bit.
However, I really enjoy snaps for when babies get older and smarter.
In the end, it's all about what your personal preference is. Both closure methods work great; it's just a matter of which works best for your family.
So tell me… do you prefer Snaps or Hook & Loop on your cloth diapers?
Want more cloth diaper info?
Starting Cloth Diapers
How to Clean Cloth Diapers