I may receive commissions from purchases made through links in this article. Full Disclosure
There is no perfect birthing method. Each woman needs a different method. That is why I asked some blogging friends to write on their favorite methods for the Ways to Have a Natural Childbirth series.
Today's featured blogger is Kara of Extremely Good Parenting. Check out her post on why she prefers birth centers below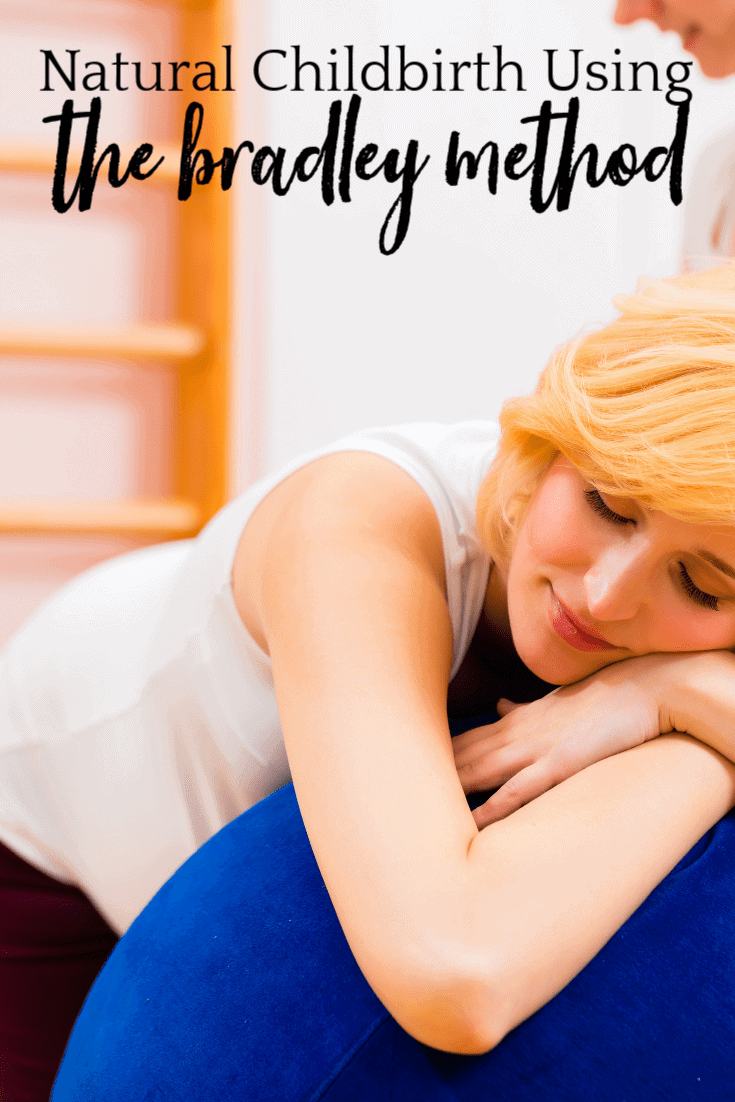 What is the Bradley Method?
The Bradley Method is a popular natural childbirth class because it offers a wealth of information, is all about preparation of both the mother and the father (or coach), applies to both home and hospital births, and prepares for unexpected complications.
In my personal opinion, this is a wonderful option for all perspective parents, even if they are not wanting to try for a natural birth. I know that may sounds strange, but the ultimate goal of the class is to train the husband to be the coach and that in itself is invaluable while in labor.
I should first let the cat out of the bag and say that I did not have a natural childbirth. Labor? Yes. Childbirth? No.
As much as it pains me to say that, it is the reality of the situation. I was an informed mother who wanted to conquer childbirth with no medication and come out on the other end victorious. However, I had to have an emergency cesarean section after 15 hours of labor.
When I got pregnant, I knew that I wanted to be the natural mom on the block that "braved" labor and didn't receive an epidural or any medication.
And in reality, I only had 45 minutes of meds because I was so well-equipped to handle labor (even back and breech labor). We were dead set on that as a couple and told ourselves there was no other options.
We researched and educated ourselves with information and began going to Bradley Method classes. Bradley method teaches you and your significant other to properly prepare for childbirth and to nurture your pregnancy through diet and exercise.
Not only is there a recommended diet (The Brewer Diet) that encourages adequate protein intake, the exercises increase in intensity over time.
It starts by walking for a few minutes each day and increases in length each week. Other exercises include Tailor sitting (criss-cross), Kegels, Pelvic Tilts (Cat-Cow), and most importantly, squatting. I went from hating squats, to doing them even when I didn't need to.
The class was filled with movies, books, exercises, and games to help along the way. It was a wonderful environment to learn with a few other couples, but not enough to get lost in a crowd.
We were there with 3 other couples and it was a great learning environment. Not only does the Bradley Method discuss childbirth, but it also goes through how to care for a newborn, breastfeeding, and newborn procedures like vitamin K to decide if they are right for you or not.
Natural Childbirth Using the Bradley Method
Back to my birth story – At 30 weeks or so I told my doctor that I thought I might have a breechling. He laughed and told me I was crazy and he had 30 years experience.
Six weeks later, I got into a car accident, hitting a cow going 70mph on the highway. Needless to say I was hospitalized and monitored. This event forced an ultrasound, only to find that my child was frank breech.
My doctor only offered a scheduled C-Section, despite knowing that I was using the Bradley Method, so I switched at 38 weeks to go with a doctor who would allow me to go into labor and deliver naturally.
I went into labor the day before my due date and my husband and I worked through all of our Bradley Method training. He helped me manage back labor and massaged my low back with tennis balls. He reminded me to relax and coached me through contractions.
He set the mood of peace and we did great and I progressed quickly. We stayed home until we hit transition and then went to the hospital.
I labored for 4 more hours and didn't progress and was rushed into my emergency cesarean after I could just no longer muster the courage or energy to go through back labor and frank breech labor.

In the end, I know that my husband was well-informed to help me through each and every step of our labor and I give all the credit in the world to the Bradley Method.
I was blessed enough to labor mostly at home, which allowed me to continue to eat and drink as the Bradley Method suggested, which in turn helped give me the energy I needed to last as long as I did. I am not sure if having a c-section makes the Bradley Method more or less appealing to those reading.
But personally, I recommend the Bradley Method to every single person I know that is pregnant because it helped us regardless of how my labor actually went.
It allowed me to have a natural labor and an easier delivery. The classes prepared us and we weren't scared going into what we knew would be a trying and difficult labor.
My husband and I both agree that we probably could have had our daughter at home since the hospital made me uncomfortable, but we live and we learn and plan to have an HBAC next time.
Kara is married and has one daughter that she educates at home. She writes about natural living, tot-schooling, and blogging at Extremely Good Parenting. She loves being a eco-conscious mom and is a huge advocate of the organic, all natural, and "leave no trace" kind of lifestyle.