I may receive commissions from purchases made through links in this article. Full Disclosure
Growing up, I never did the whole Advent Calendar thing. We did the standard paper chain to count down to Christmas. One year we did a Jesse Tree. But as far as I can remember, we've never done an Advent Calendar.
I love Christmas. It is by far my favorite holiday of the year. Perhaps, that is why I like the idea of Advent Calendars so much. The idea of a mini Christmas celebration every day leading up to December 25th is wonderful.
Last year, my kids got a chocolate Advent Calendar. Nothing fancy and of course they loved getting a chocolate every day but I felt like it fell short just a bit in bringing across the whole point of an Advent Calendar.
(Side note: the actual point of an Advent Calendar is to count down the days until the birth of Christ…but I think the idea has lost that meaning a bit over the years…so Christian or non-Christian you can still have fun with an Advent Calendar)
This year, I decided to get a tiny bit creative and do an Advent Calendar that was based on activities.
Activity Based Advent Calendar
An activity calendar is a great way of not only counting down the days till Christmas but it gives you the chance to have a little Christmas fun for 24 days prior to the actual holiday! It really brings the family together and it gives us something to do each day.
Advent Calendars take many many forms. There's the classic rectangular container with 24 windows to open but people have gotten very creative with their calendars throughout the years! I've seen tiny bags, tiny stockings, boxes, trees, envelopes, etc.
I decided to grab a few branches, stick them in a vase, and use little tags as my daily countdowns. Originally I wanted to do little envelopes so that I could move around the activity tags if I needed to (no snow?) but this was what I was able to do this year. Besides, we have a red and white snowflake theme going on. I numbered the front of each tag and then on the back I wrote the activity.
There are tons of actives that involve Christmas; much more than the needed 24. I choose activities that I felt worked best for my family but of course, if you want to do your own then you can add or subtract as you see fit. That's just one benefit of not buying store bought calendars!
Here's what I have planned for this Christmas season. I've got a few more than 24 just in case we do not get snow or in case I need to swap out an activity for some reason. Always good to have backups!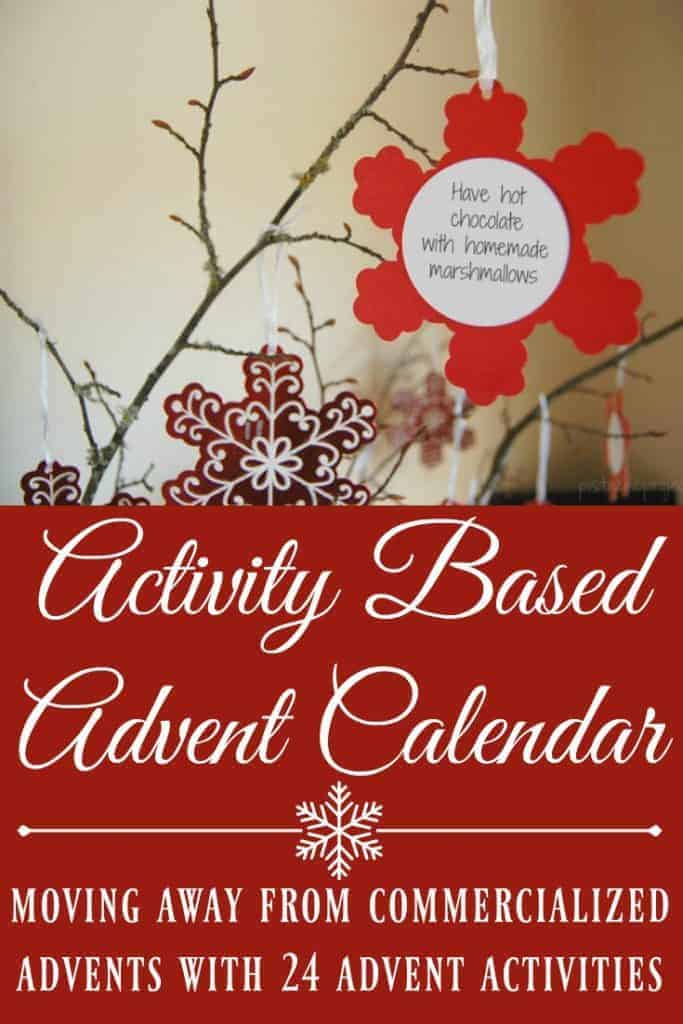 24 Activity Based Advent Calendar Ideas
1. Make hot chocolate with homemade marshmallows
2. Play Christmas Pictionary
3. Make paper snowflakes
4. Play Christmas music
5. Make Cinnamon Ornaments
6. Make a Christmas card for someone special
7. Drink Eggnog (better yet, drink homemade eggnog!)
8. Watch a Christmas movie
9. Build a snowman
10. Take a Christmas pictures
11. Gingerbread waffles for dinner
12. Read a Christmas book
13. Eat candy canes
14. Play with Christmas Playdough
15. Look at the Christmas lights
16. See a Christmas play
17. Bake Christmas cookies
18. Read the Christmas story
19. Write an appreciation letter to a family member
20. Christmas scavenger hunt
21. Do Christmas activity sheets
22. Drop off Christmas goodies to a friend
23. Gingerbread smoothies for breakfast
24. Sing your favorite Christmas song and video tape it
Extras:
Donate books (not sure any of ours are in donote-able condition… we love books)
Red and green finger painting
Color a Christmas picture
Do you do an activity based Advent Calendar? What activities do you include?