I may receive commissions from purchases made through links in this article. Full Disclosure
I don't know about you but we go through a lot of bananas. We use them in our smoothies and currently there are five of us who have a smoothie each day.
There's a fine line between pride and shame when I say that we buy 20-30 BUNCHES of bananas each month!
Now I like to go grocery shopping as little as possible. In fact, we go grocery shopping only once a month with a few small trips to pick up more milk and such.
Since I like to go to the grocery store so rarely, we buy all our bananas at once. Yes, we look quite ridiculous going through the store with bunches upon bunches of bananas in our cart.
It never fails that the cashier will ask what we are doing with all those bananas or if I'm raising monkeys.
Now obviously, those bananas cannot possibly last an entire month without going to waste. What do I do?
I freeze them! Honestly, I prefer frozen bananas in my smoothies anyway. It makes my chai spice smoothie nice and creamy! Here's just how I freeze our bananas.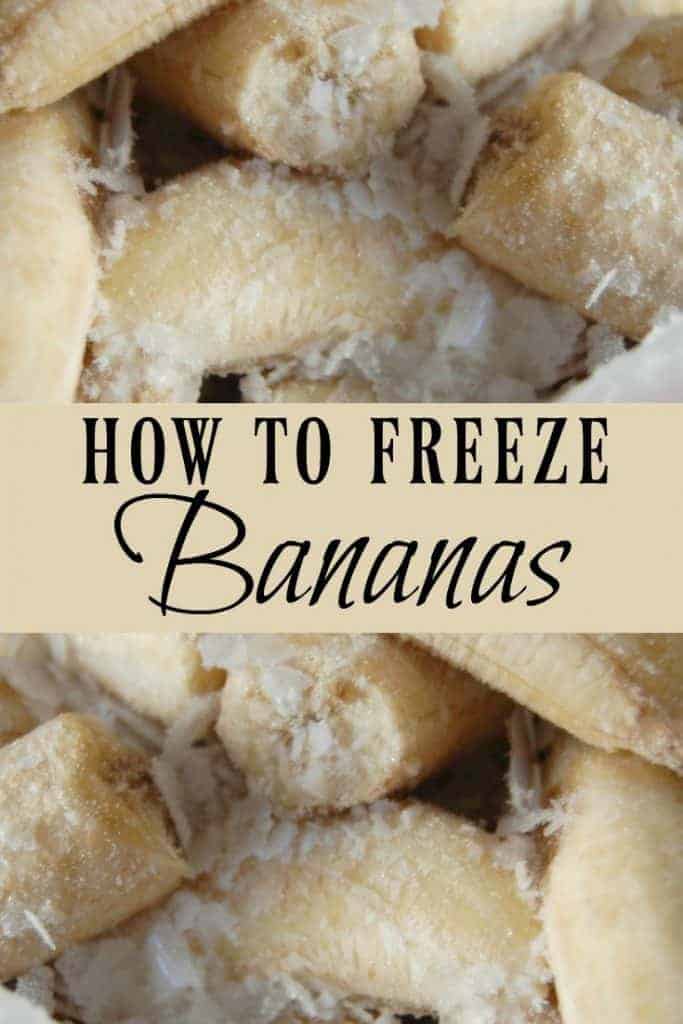 How to Freeze Bananas
Ziploc bag (or other container. I'd love to not use plastic but for frozen bananas, it's hard to find an alternative.)
Directions:
Peel your bananas. Cut into desired size.
I just break my bananas into halves as this is incredibly easy to do.
Place bananas into container and put into freezer. That's it.
Now occasionally my bananas stick to each other but I can break them off of each other easily enough.
If you want to do bananas in slices then you can avoid them sticking together by freezing them in a single layer first and then placing them altogether in a container.
Now you can buy massive amounts of bananas too! Just make sure you have the freezer room for them all!
Need some smoothie ideas for all those frozen bananas?
Carrot Cake Smoothie
Zucchini Bread Smoothie
Pumpkin Spice Smoothie