I may receive commissions from purchases made through links in this article. Full Disclosure
Our bodies need to detoxify every now and then. We are surrounded by so many contaminants, pollution, chemicals that we need to help our bodies recover.
Our face is needs this detox as well. One great way to help your body detox is with a nice face mask. It will help your skin and it feels great as well.

Today I'm sharing an easy detoxifying face mask. What is in this face mask that makes it detoxifying?


Bentonite Clay – Bentonite clay is a great detoxifier and is used in countless ways both internally and externally. Today of course, we will be using it externally on our faces.
Bentonite draws out toxins and impurities. It also helps exfoliate and even helps repair skin.
Green Tea – Green tea is another wonderful ingredient. It's known for it's antioxidant properties which helps with damage done from the sun or pollution. It's also can help your skin (or body if you drink green tea) detox.
Epsom Salt – Epsom salt is another favorite detoxifier. It is often used in baths and foot soaks for both it's detoxifying and relaxing properties.
However, it can also be used on your face. You can use it in it's grain form but today we will be dissolving it so we get a nice smooth mask.
Now that you know more about these amazing detoxifying ingredients, let's learn how to make this face mask!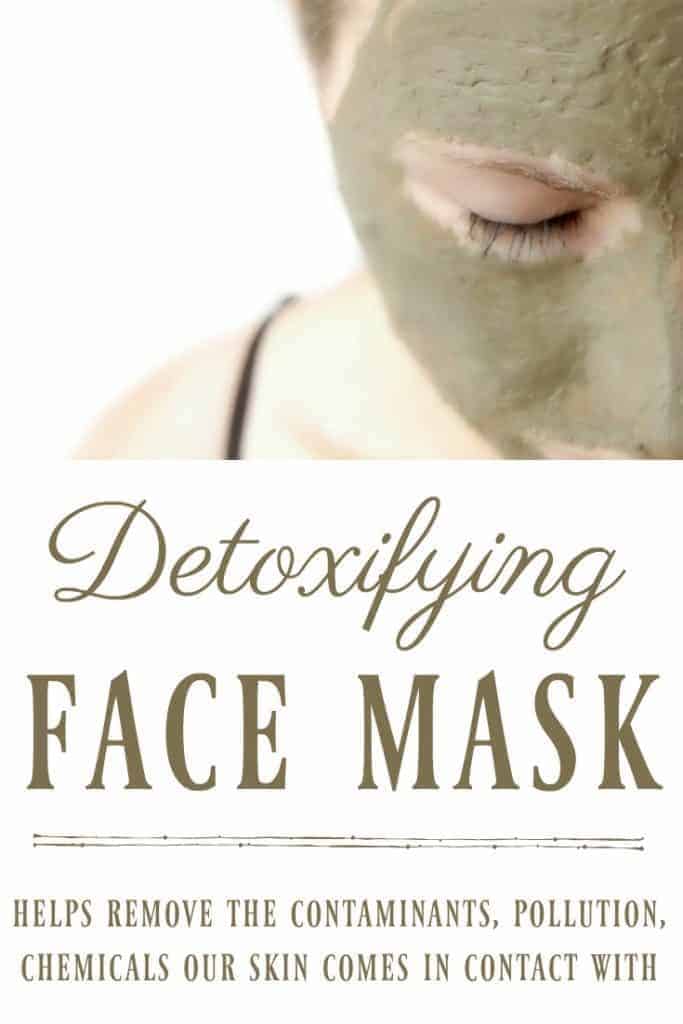 Detoxifying Face Mask
1 cup water
1 green tea bag
1 Tbs. epsom salt
3 Tbs. bentonite clay
Directions: 
Heat a cup of water in a mug/cup. Place one tea bag in the cup to steep for a few minutes.
Once steeped, remove 2 Tbs of the tea and place into a bowl. You may drink the remaining tea.
In the bowl with the 2 Tbs of tea, stir in 1 Tbs of epsom salt. Stir till the epsom salt is dissolved.
Now mix in 3 Tbs bentonite clay and stir well. (It is best to avoid metal with bentonite clay so choose a wooden or plastic spoon to mix the face mask.)
Once you have mixed the face mask, apply to a clean face. Allow to dry. Once the mask has dried, you can remove it by washing with warm water using a wet washcloth to help remove the dried clay.