I may receive commissions from purchases made through links in this article. Full Disclosure
Ah, playdough the childhood favorite. Kids love to mold and shape this dough for hours. It's a great way to fuel kids' imaginations.
However, commercial playdough really isn't all that great for kids. Now, I don't know if I'd go so far as to say it will instantly affect your children but I'd say that playdough is right up there with plastic toys for me.
Why? Playdough has some not so great ingredients. Sure, the basics are water, salt, and flour but did you know that there are also fragrance, artificial coloring, petroleum and even borax added to commercial playdough?!
Now some have no issues with borax but I do. If it's used in rodent poison then my kids will not be touching it. Not to mention the fragrance which probably has phthalates and the petroleum.
What is a natural parent to do? Well you could spend lots of money for natural playdough but why buy playdough when you can make homemade playdough with natural colors it for cheap?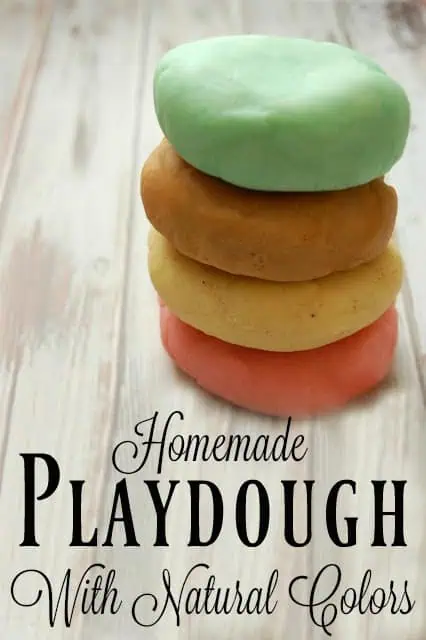 Homemade Playdough with Natural Colors
1 cup flour
1 cup liquid (water, dyed water, or juice)
½ cup salt
1 Tbs cream of tartar
1 Tbs liquid oil
 
Directions: 
Place all ingredients into a pan. Stir while cooking over medium heat.
After a few minutes a ball will form.
Once the dough pulls away from the edges it is done.
Allow to cool and then knead into a ball.
Store in an air tight container.
Natural Dyes and Scents Options
Spice – Add 1 tsp cinnamon to the dough.
Chocolate – Remove 1-3 Tbs from the flour and replace with cocoa powder
Vanilla – Add 1 tsp vanilla extract.
Pink – Strawberry, cranberry, or beet juice.*
Orange – Carrot juice.*
Yellow – 1-2 tsp turmeric in 1 cup of water.
Purple – Elderberry or cabbage juice.*
Green – Spinach juice.*
Blue – Cabbage juice with baking soda added. Baking soda turns the purple water to blue.
 
*You may want to dilute the juice with water. For those without a juicer, simmer a handful of the fruit/vegetable in 1 ½ cups water for 10-20 minutes. Cool, strain, and then use the liquid in place of the juice or water.
Looking for more non-toxic homemade crafts?

Herbal Moon Sand
Herbal Slime
Herbal Window Clings