I may receive commissions from purchases made through links in this article. Full Disclosure
Learn how to properly buckle a car seat so that you can keep your little one safe while on the road.
Making sure your child is properly buckled in their car seat is just as important as buying a good car seat.
You could have the world's best car seat but if your child isn't buckled properly then it's just not going to help them stay safe.
Once upon a time I was just like everyone else; I figured that as long as I snapped together that 5-point harness then my baby was safe and secure.
It seems logical to think that buckling a car seat should be just as simple as buckling an adult seat belt; snap in and go.
However, there's more to it with car seats. Car seats are particular about how they are buckled.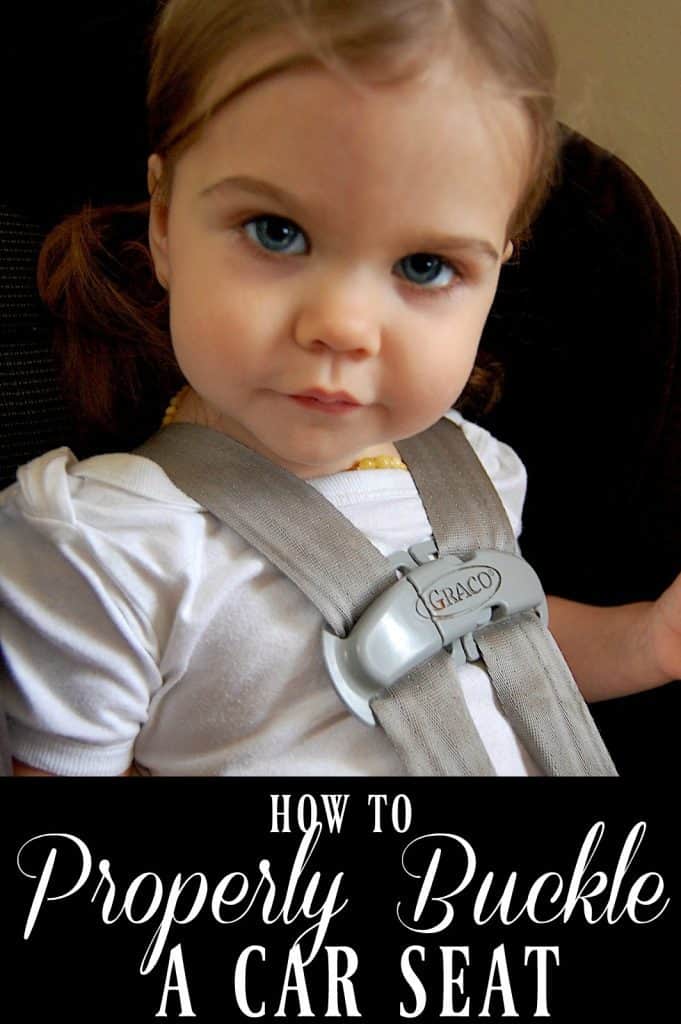 How to Properly Buckle a Car Seat – Things to Keep in Mind
Chest Clip
The Chest Clip needs to be at arm pit level. You will need to make sure it is at the correct level every single time you buckle your child in, as the clip tends to move around
Harness Location
Did you know that depending on if your child is rear facing or forward facing, the harness needs to be in certain slots?
Harnesses work differently depending on the way that the seat is facing. If you thread those straps the wrong way then they will not help in an accident.
Rear Facing Harness
Shoulder straps need to be at or BELOW the shoulders
Forward Facing Harness
Shoulder straps need to be at or ABOVE the shoulders.
Car Seat Installation
It's easy to install a car seat improperly. In fact 3 out of 4 car seats are installed improperly!
Make sure to read your manual thoroughly when installing a car seat and follow all the directions exactly!
This means threading the seat belt/LATCH in the properly slot (there is one for rear facing and one for forward facing.)
Make sure you only use the LATCH system when it should be used and where it should be used (this is different for every vehicle and varies depending on seat location and even the weight of your child).
Use that top tether! If your child is forward facing then you must use that top tether.
If your child is rear facing then use the top tether only if your car seat manual says to (not all car seats are designed for rear facing top tethers yet).
One of the most important clues to knowing if your car seat is installed properly is the wiggle test. If you can move the car seat around more than an inch side to side, then it is not tight enough.
Generally when installing a car seat, you will need to actually press your knees into the seat so that it presses deep enough into your car in order to get a tight enough fit. It will be hard work but it's worth it!
Alternatively, you can take your car seat (with your car) to a Child Passenger Safety Technician and have them check it out or install it for you; usually this is a free service.
Aftermarket Products
It might seem that if a product is on the shelves then it must be safe to use. Unfortunately this is not true.
When it comes to car seats, you should not use ANY aftermarket products.
This includes head cushions, buckle covers, car seat covers like the Bundle Me, and even those cute slipcovers that you can buy so that you can update the look of your car seat.
It may not seem like it but aftermarket products can hinder the car seat's ability to keep your child safe in an accident. Not to mention that it will void any warranties with the car seat manufacturer.
If the product did not come with the car seat or can be purchased through the same car seat manufacturer for that specific seat then do not use it!
Harness Tightness
This is a big one. The harness need to be tight! Harnesses need to lie in a straight line without any slack.
There is a simple test that you can do to see if you have those straps tight enough; it's called the pinch test.
Buckle your child in their seat and then using your pointer finger and thumb try to pinch the strap near your child's collarbone.
If you can pinch the strap then that harness is not tight enough. If the harness is tight enough, you should not be able to pinch the strap.
Jackets
Sure it might be below freezing and you just want to keep your baby all bundled and warm but that jacket must come off before you buckle them in!
Why? Because when you add a bulky layer like a jacket to the car seat mix, it makes the harness too loose.
They may seem like they are snug but in an accident the jacket will compress and suddenly those straps that seemed so tight are now inches too loose! Don't believe me? Try it!
Buckle your child with a jacket on and get those straps as snug as you normally would. Now without loosening those straps, un-clip the buckles, remove the jacket, re-buckle and now see how snug that harness fits! Tons of slack!
The safe alternative is to either have a car blanket that the kids can use or buckle your child into their car seat without the jacket and then place the jacket on backwards on top of the straps.
The Correct Seat
Make sure you are using the right type of car seat for your child's age, weight, and maturity level!
In general, kids should be rear facing until they reach their car seats weight/height limit and are at least 1 years old although the recommendation is now 2 years old. You can read more about extended rear facing here.
Kids should forward face until they meet the car seats weight/height limit or are at least 4 years and 40 lbs. That is the bare minimum however as most kids are not mature enough for a booster seat until they are much older!
Which brings me to boosters, kids need to be in a booster until they are between the ages of 8-12 years, are at least 4'9'' and weight between 80-100 lbs.
These are just the basic car seat rules; we'll cover the details more thoroughly in a follow post in this series.