I may receive commissions from purchases made through links in this article. Full Disclosure
In case you've been out of the baby loop for the last few years, stretchy wraps are all the rage lately. However, they cost about $40!
$40 for a long piece of fabric, that's all you're getting! No amazing sewing technique, no buckles, no rings, nothing; just a piece of stretchy fabric.


Guess what? You can make one for $10-$15 dollars! It's incredibly easy to do! No sewing whatsoever!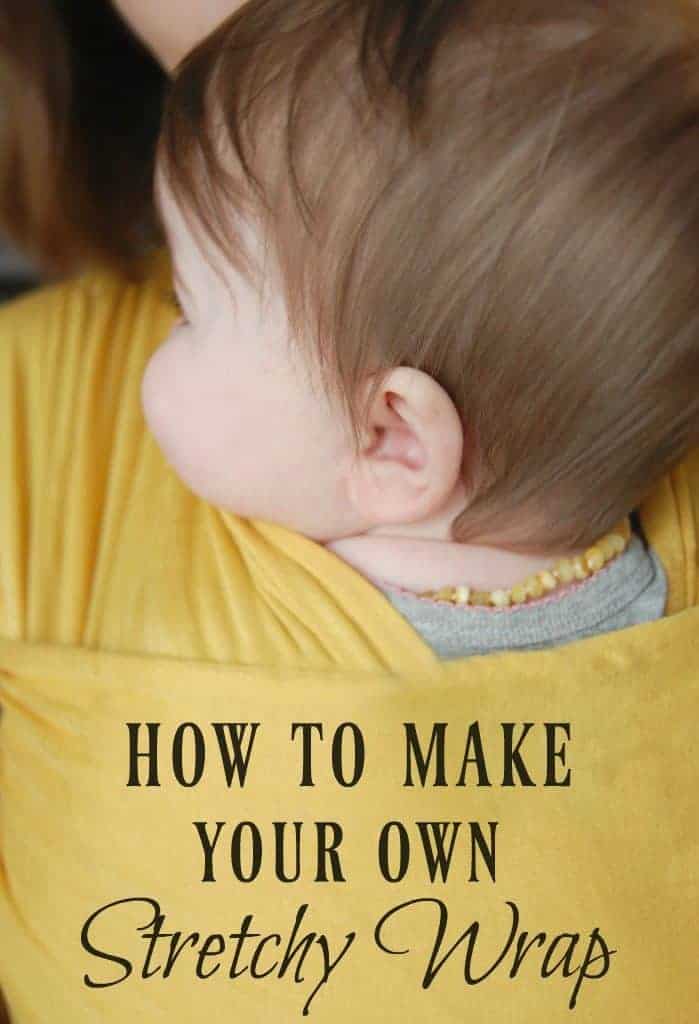 Make Your Own Stretchy Wrap
What you need have:
Scissors
5-6 yards of jersey knit fabric (that's the cotton t-shirt type fabric)
Tape measure (depending on the width of your fabric this can be totally optional)
What you need to do before cutting:
Wash fabric (you should always do this after you buy fabric)
Lay out your fabric (you'll need lots of room)
Directions:
45″ Width Fabric
If you bought a 45" width fabric then you can fold it in half and you can cut along the fold. Thus making two strips that are 22.5" wide.
60″ Wide Fabric
If you bought a 60" width fabric then measure out a strip between 20-25 inches. Mark and then cut. Thus making (potentially) 3 strips at 20" or two slightly wider strips.
Since you bought jersey knit there is no need for sewing as it won't fray.
Congratulations! You just made not one but TWO (or possibly three) stretchy wraps! Didn't think it was that easy did you?
Now I will add that when I said you could make a stretchy wrap for only $10-$15 dollars that was for ONE wrap… so technically you spend double that amount but you do get TWO wraps. My advice is to either keep two for yourself or give one/sell one/buy one together with a friend. 🙂
For wrapping instructions check out this site.
Stretchy wraps are ONLY for front carries. They are never to be used to carry your baby on your back or hip, despite what some sites might say.
Stretchy wraps are also only good until your baby reaches about 18 pounds, after that they get to heavy for stretchy material. I've got a great post on how to safely use a stretchy wrap.