I may receive commissions from purchases made through links in this article. Full Disclosure
I have been feeding my boys yogurt for their breakfast lately. I have decided that they need some probiotics in their system to keep them healthy or should I say get them healthy; they have been sick for too long in my opinion.
I set out to buy organic yogurt that contained all the good probiotics.
However, organic yogurt is expensive! Even in bulk it is pricey.
Naturally, I started thinking about the idea of making yogurt but the thought has always been very intimidating to me.
There is a lot involved when it comes to making yogurt on the stove and oven. After a bit of searching I found recipes for cooking yogurt in a crock pot, I figured I would give it a try!
Plus just check outlet price comparison!
Price Comparison of Store Bought Yogurt to Homemade Yogurt
Store Bought:
Organic Yogurt 64 oz. – $7.78
Homemade:
1/2 cup of organic yogurt – $0.89
1/2 gallon organic milk – $3.00
Total cost for 64oz homemade yogurt – $3.89
This means that you get the same amount of yogurt but for HALF the price if you make it yourself!
Think of it this way, many times you can buy non-organic yogurt at the store for $0.50/6 oz.
When you make your own yogurt it ends up being $.36 and that is for ORGANIC yogurt.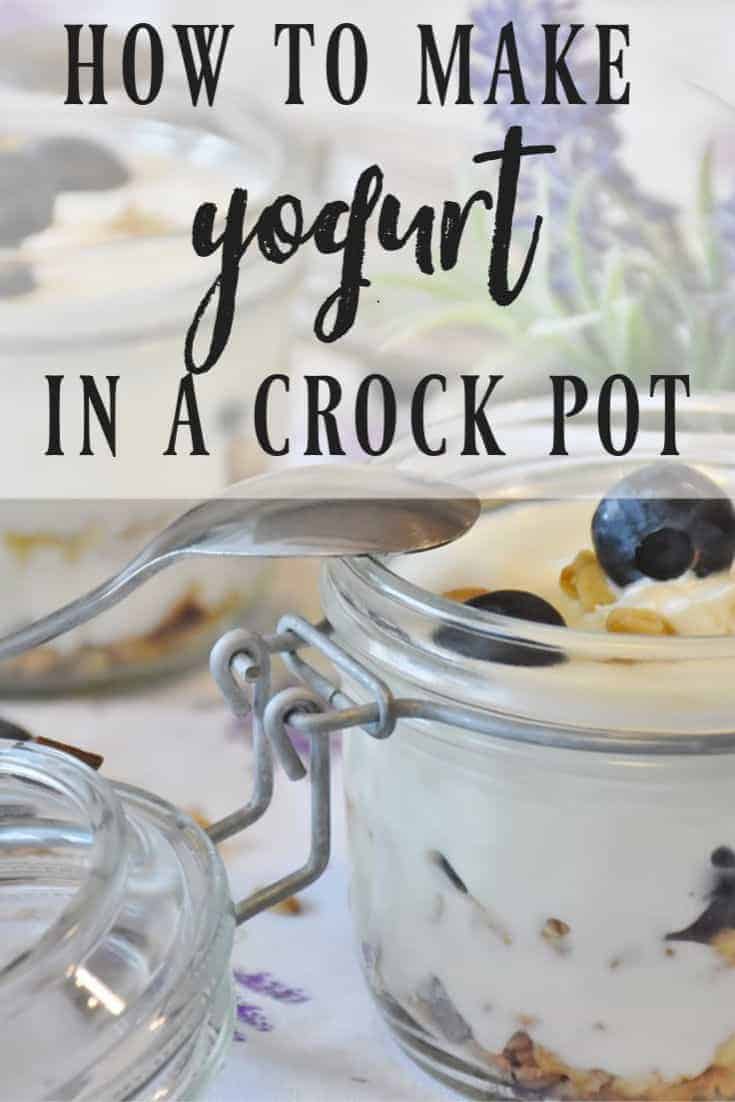 How to Make Yogurt in a Crock Pot
8 cups (1/2 gallon) milk (I use organic but you can use any type of milk, except milk that is ultra pasteurized, it does not work for yogurt. Some recommend starting with whole milk until you get the hang of it but I started with 1% and had no problem.)
1/2 – 1 cup cup natural, live culture, plain yogurt. (I find that 1 cup gives me thicker yogurt)
2 thick bath towels (4 if it's cold in your house)
Directions:
Turn your crock pot on low, add the milk, then cover and cook on low for 2 1/2 hours.
Unplug crock pot after the 2 1/2 hours. Leave the cover on and let it sit for 3 hours.
After the 3 hours, scoop out 2 cups of the warm milk and put in a bowl. Add the 1/2 cup of yogurt to the milk and whisk. After this is mixed well, add the mixture to the crock pot and stir it into the rest of the warm milk.
Put the lid back on. Keep crock pot unplugged. Wrap the towels all around the crock pot for insulation. Let it sit for 8 -12 hours. (This is great to do before bed so that this period of waiting can be done in your sleep.)
The yogurt is now done. It will thicken up as it cools in the refrigerator.
This will last for 7 -10 days in the refrigerator.
How To Make the Yogurt Thicker:
There are apparently a few ways to thicken yogurt: adding a bit of dried milk or adding some gelatin. I have yet to try either of these. You could also strain it through cheesecloth but that results in greek yogurt.
I did try to use pectin once…it did not turn out right, don't use pectin. I have found that if you increase your yogurt starter from 1/2 cup to 1 cup that it will result in much thicker yogurt.
Tip: Save 1/2 – 1 cup yogurt from this new batch for the next time you make yogurt. This makes it even cheaper!